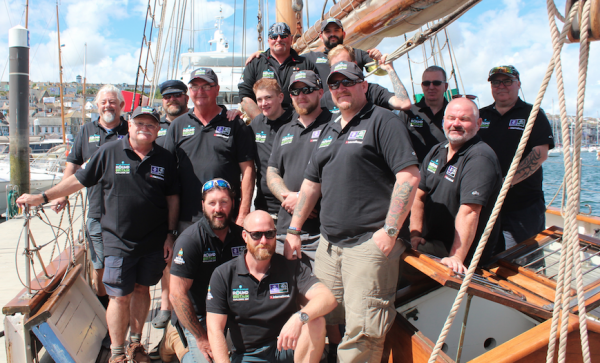 A tall ship emerged from the mist into Falmouth Harbour on Sunday (Oct 1) as a crew of injured veterans marked an emotional conclusion to a gruelling round-Britain sailing expedition.
Seventeen military veterans celebrated the completion of the Turn to Starboard Round Britain Challenge – a 2000-nautical-mile voyage by finishing at Port Pendennis. Hardy participants had endured ferocious weather conditions – including menacing waves and wild gusts of up to 40 knots – in what organisers described as being 'a challenge like no other'.
The return of the 92-foot long tall ship to Falmouth, where the challenge began on August 5, signaled the end of an epic marathon that has taken them to 15 ports across 3 countries.
Chris Greenwood, a 54-year-old former soldier from St Day near Redruth, said: "The toughest part was the force 10 gales around the Isle of Man and up in Scotland. They ripped the sails so hard we had to stop for a couple of days to get them repaired."
Expedition leader and former Royal Marine, Dan Fielding, described the second Round Britain Challenge event as 'extremely tough'.
"Not only has the crew faced their own challenges after Service life, they have faced incredible challenges throughout this journey," he said. "From appalling weather conditions to damaged sails and broken steering gear, the team has shown resilience in every situation. The team should all be justly proud of themselves, whether completing shorter sections or circumnavigating the entire British Isles. It was an extremely tough expedition and the crew sailed particularly hard, which has resulted in turning the group of novices who set out 8 weeks ago into highly skilled individuals."
Family, friends and supporters lined the jetty at the Port Penddenis while spectator boats took to the water to welcome home the crew as they reached the finish line.
Love was also in the air when Falmouth Harbour provided the perfect backdrop for a wedding proposal. Skipper Dan Fielding had arranged for letters to be taped on crew members backs which asked his girlfriend, Nicola Sherwood, to marry him. The 35-year-old dropped to his knees in the customary manner – much to the delight of spectators. Nicola screamed with delight before saying "yes," accompanied by much cheering and clapping from family and friends.
The expedition has been organised by Turn to Starboard, a Falmouth-based charity that helps military personnel suffering with physical injuries or mental trauma by providing sailing courses. The aim of the expedition was to help participants re-engage, reintegrate and gain new skills to help start new careers.
Lead supporters of the initiative are The Endeavour Fund, fuelled by The Duke and Duchess of Cambridge and Prince Harry's passion for supporting the recovery of wounded, injured and sick Servicemen and women.
Stuart Croxford, Programme Manager at The Endeavour Fund commented: "What an incredible journey the crew has been on. The challenges they have faced have not only been physical – battling huge waves and difficult weather conditions – but also psychological but I know they will have all worked as a team to support each other. I hope this epic challenge will have inspired many more wounded, injured and sick Servicemen and women to rediscover their fighting spirit and self-belief. I'd like to thank Turn 2 Starboard for their support and congratulate all crew members on their incredible achievements."
-End-
Supported by
Turn to Starboard Office: 01326 314262
Email us at: info@turntostarboard.co.uk
Website: turntostarboard.co.uk.
Follow Turn to Starboard on Twitter: com/turntostarboard
Find Turn to Starboard on Facebook: com/turntostarboard
Or write to us at: Turn to Starboard, Falmouth Marina, North Parade, Falmouth, Cornwall, TR11 2TD
Notes to Editors
Turn to Starboard is a Cobseo registered charity using RYA sailing courses to support Armed Forces personnel who have been affected by military operations. We support those who are Serving or Retired and their families.
We help those retired from the forces and those still serving to get perspective on past events and focus on a successful future.
Beneficiaries gain tangible experiences, expert training and career-building opportunities including the chance to gain internationally recognised marine qualifications.
Registered Charity number 1148549
For further media information, please contact: Mark Hardaker by calling 01326 314262 or emailing mark@turntostarboard.co.uk.