Three veterans will be guests of the Taxi Charity for Military Veterans at a lunch on 15 August to celebrate their 100th birthdays.
On 15 August, the 74th anniversary of V-J day, three veterans Ray Whitwell, Jeffrey Hayward and Chelsea Pensioner, George Parsons will assemble with a group of heroes for a lunch at the Union Jack Club in London to celebrate their 100th birthdays.
The lunch at 1pm will see a group of Veterans celebrate with the birthday boys, who will be joined by 101-year-old, Albert Gardner who served with the Royal Engineers and West African Frontier Force.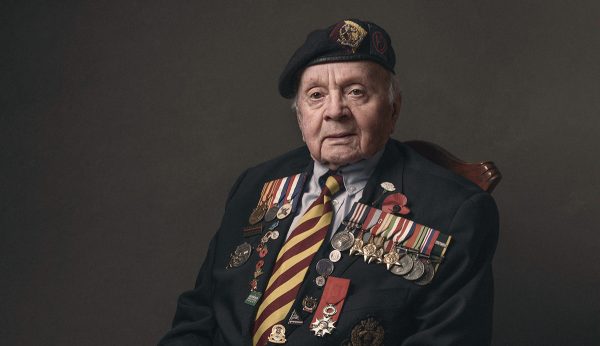 Notes to Editors
Jeffrey Haward (pictured above), recipient of the Military Medal is the subject of the book "Fighting Hitler From Dunkirk to D Day"
Venue – Union Jack Club, Sandell St, Lambeth, London SE1 8UJ
Lunch is at 1pm and interviews can be arranged from 12pm
The veterans are mainly resident in London and the South East.
Ray Whitwell who will be travelling to Arnhem in September with the Taxi Charity lives in North Yorkshire
About the Taxi Charity
The Taxi Charity for Military Veterans was formed in Fulham in 1948, to work for the benefit, comfort and enjoyment of military veterans and arranges many trips every year for veterans from all conflicts.
The charity offers international trips to Holland, Belgium and France, UK day trips to concerts or museums, transport to attend fundraising events, as well as special days out to catch up with friends and comrades.
To fund and facilitate these outings, the charity is wholly reliant on generous donations from members of the public, businesses and trusts and the amazing group of proud London licensed taxi drivers who offer their time and vehicles free.
To find out more about the charity or to donate visit the website www.taxicharity.org
Twitter @TaxiCharity
Facebook www.facebook.com/TaxiCharityUK
For more information, to arrange interviews or to request images please contact
Christina Bowden
Bowden PR
07984 433614
christina@bowdenpr.co.uk
www.bowdenpr.co.uk