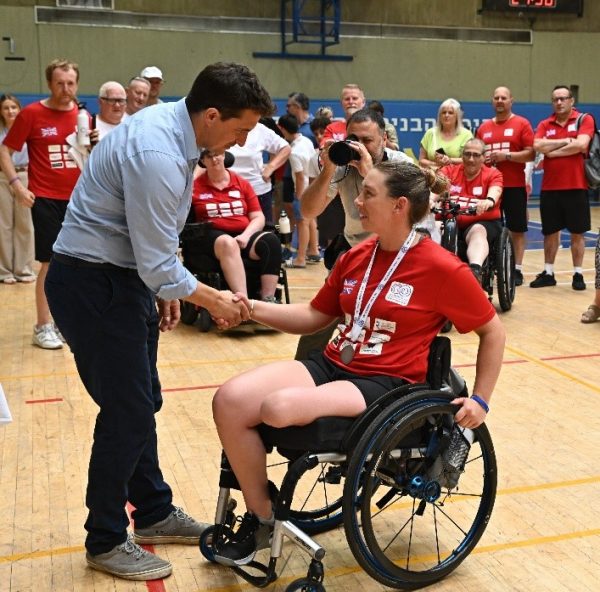 Stacey Mitchell accepting her bronze medal. Credit: Yuval Yosef
RAF veterans from across the UK have returned after taking part in the Veteran Games in Israel, representing the RAF Benevolent Fund, the RAF's leading welfare charity. The Veteran Games ran from 27 May to 2 June in Tel Aviv.
The event recognises the fundamental role played by sport and family in supporting the ongoing recovery of veterans, who have suffered physical and psychological challenges as a result of serving their country.
Ann Hughes, 53, who served as an RAF policewoman for 20 years, said of her experience:
"I found the games to be a life changing experience. I was thrilled to take part in the CrossFit and shooting. I think the biggest highlight was meeting all the UK and Israeli veterans and experiencing the beautiful country of Israel. It was humbling to meet other veterans who have shared similar experiences and I felt inspired to be surrounded by such admirable people."
Ann found out she had MS in 2007. The Fund housed Ann in 2009 and made the necessary adaptations to make her home more accessible; helped to support the cost of a mobility scooter and has provided short breaks away with the Disabled Holiday Trust.
Stacey Mitchell, 29, joined the RAF in 2013 as a Senior Aircraftswoman. After sustaining an overuse injury in her leg and enduring years of decline and a loss of independence, Stacey decided to have through knee amputation for a better quality of life and in the hope to walk again one day.
The RAF Benevolent Fund purchased a property for Stacey in 2022 and adapted it to meet her needs. Stacey is now able to take part in sports again, including skiing in a mono-ski.
Stacey said: "I found out about the Veteran Games through an athlete who competed last year. At the Games I took part in CrossFit, shooting and water polo coming away with one silver and two bronze medals.
She continued:
"Words can't give this week the true justice it deserves. It has been nothing short of emotive, breath-taking, motivational, and spectacular. I am touched and honoured to have been part of something so incredible. No matter how big the next mountain feels, you can achieve anything with grit and determination.

"I didn't see disabilities, merely people achieving so much! As they say: 'alone we can achieve so little, together we can achieve so much'. This is true but now you are all home you can all still achieve so much! This experience in Israel and everyone involved will stay with me for the rest of my life. I hope the Games continues to positively impact many more veterans over the coming years."
Mick Curran, 57, also represented the Fund at the Games. Mick, who began his career in the RAF aged 17 and went on to work as a policeman for 12 years, said:
"I have only been able to do my archery activities because of the RAF Benevolent Fund – without the support I have received I wouldn't have been able to get involved with the sport I now love. The Fund has enabled me to keep going and to have a positive outlook on life."
The Fund has helped Mick by funding his equipment, providing mobility aids, short breaks away and recently in 2023, a new sports wheelchair.
Veterans competed in a variety of sports while learning how their respective countries provide care for those wounded, sick and injured in the service of their country. They had the opportunity to meet and share common experiences with other veterans in a relaxed and supportive environment, while enjoying social activities and cultural events that will provide an insight into Israel's rich heritage and history.