4th of July sees a new drop-in café open its doors to veterans and their carers at The Royal British Legion Pop-in, Plymouth.
Alzheimer's Society research shows that 850,000 people in the UK have a form of dementia. By 2021, 1 million people will be living with the condition. The Legion recognises the need of dedicated care for our beneficiaries and their carers that are living with dementia.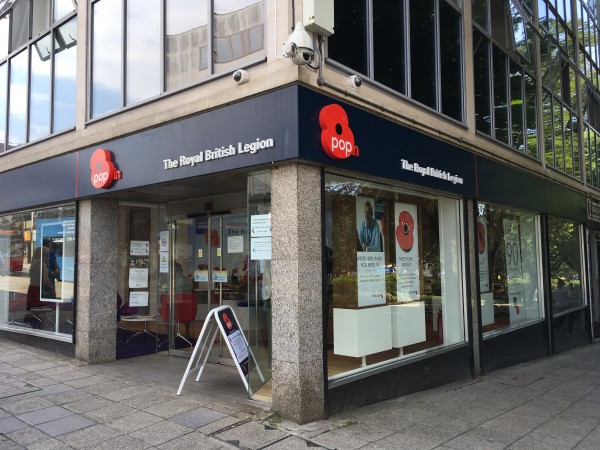 Working in partnership with Plymouth Drake Foundation and supported by Alzheimer's Society, the Royal British Legion is hosting a new veterans Café pilot in their city centre location.
Volunteers and staff from both the Legion and Alzheimer's Society have come together to support an essential drop in for those living with dementia and their carers.
Area Manager Susanne Archard said 'we are enormously excited to be working with the Plymouth Drake Foundation and receiving support from Alzheimer's Society to host this café and hope the pilot will show that a specific veterans' café is needed in the city centre.
Plymouth has a large community of former service personnel and those that carried out National Service, who often don't see themselves as part of the veteran community. We aim to reach out to all of our community and offer a space that has a sense of their service to our nation to support them as they continue to live with dementia'.
There will be activities, games, refreshments and of course cake on offer to those that attend.
The first Café will be on the 4th of July 14:00 – 16:00, at The Royal British Legion Pop-in, 174 Armada Way, Plymouth PL1 1LB, running every other week for six months during the pilot.
Alzheimer's Society Services Manager, Teresa Parsons said: 'We are pleased that we have been able to offer our expertise to support this pilot and to continue our collaboration with the Plymouth Drake Foundation and Royal British Legion'
The Royal British Legion supports serving members of the Armed Forces, veterans and their families.
If you need help, call our Contact Centre helpline on 0808 802 8080 from 8am to 8pm, seven days a week (calls are free from UK landlines and main mobile networks) for all enquiries.
For further information on the range of services offered by The Royal British Legion including our independent living service and specialist dementia care homes visit: http://www.britishlegion.org.uk/
Notes to Editors:
For further information please contact Susanne Archard, Area Manager, The Royal British Legion on 07795617065 sarchard@britishlegion.org.uk
The Royal British Legion is at the heart of a national network supporting our Armed Forces community offering through life support. We've been here since 1921 and we'll be here as long as they need us.
The Royal British Legion's work is encapsulated in its motto: Live On – to the memory of the fallen and the future of the living. The Legion is the nation's biggest Armed Forces charity providing care and support to all members of the British Armed Forces past and present and their families. It is the national champion of Remembrance and safeguards the Military Covenant between the nation and its Armed Forces. It is well known for the annual Poppy Appeal, and its emblem the red poppy. www.britishlegion.org.uk