Military veterans who struggle with their mental wellbeing can apply for a new support programme, created by Loughborough University and the Royal Air Forces Association.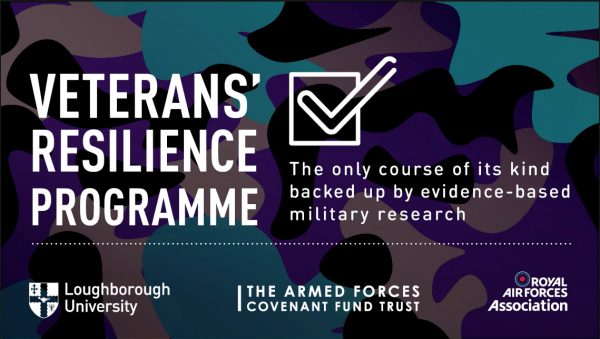 The University will be hosting groups of veterans on its Loughborough campus, where they will take part in range of activities, including social resilience workshops, practical healthy cooking lessons, sessions on improving sleep quality and team-based physical activity such as wheelchair basketball, walking football and yoga.
To be eligible for the programme you will need to be a UK Armed Forces veteran, defined as having served for a minimum of one day in the Royal Navy, Army, or Royal Air Force as a regular or reserve.
Your permanent address will need to be within the East Midlands, and you will need to be suffering from mental health and well-being issues (including self-diagnosis).
All the activities have been designed to enhance the mental wellbeing of attendees and will be provided via a mix of residential stays and one-day sessions.
The project is being funded by the Armed Forces Covenant Fund Trust, as part of its Positive Pathways Programme.
The University and the Royal Air Forces Association, the national charity that supports former and serving RAF personnel and their dependants, are working with several partners to deliver the courses. These include: The Royal Air Force Benevolent Fund; the Royal British Legion; Charnwood, Melton and the Rushcliffe Borough Councils and Rutland County Council; NHS' Op Courage, Nottingham Forest Community Trust, and FormScore.
The project was conceived and is being led by Wing Commander (Dr) Craig White, a former PhD student in Loughborough's School of Sport, Exercise and Health Sciences, with support from Dr Jamie Barker and Dr Kristen Clements. It was designed following a consultation with veterans and is open to former members of all three military services – the Royal Navy, British Army and Royal Air Force – who are suffering with mental wellbeing issues.
Speaking about the programme, Wing Commander Craig White said:
"The Covid pandemic has had a huge impact on people's lives – and this is particularly true for veterans already struggling with their mental wellbeing. The long periods of isolation, reduced contact with friends and family and difficulties in accessing mental health services have left many feeling even more alone.

"This is why our new support programme is more important than ever. There is a fantastic partnership working on this project, and together we can make a real positive difference to the lives of those veterans struggling with their mental wellbeing. I would encourage veterans to get in touch about this great opportunity."
Rory O'Connor, Director of Welfare and Policy at the Royal Air Forces Association added:
"We are very pleased that the Veterans' Resilience project is launching and look forward to recommending it to the RAF veterans who contact us for support. The combination of exercise, better sleep and healthier eating will contribute to enhanced mental wellbeing, thus reducing the risk of mental illness."
Further information about the programme and how to apply  https://www.lboro.ac.uk/departments/ssehs/veteran-resilience/