Veterans living at Launchpad's Speke House, in Liverpool are looking forward to cooking up homemade meals thanks to the donation of an allotment site.
The committee members of Chapel House Farm Allotments in nearby Garston heard that ten of the residents were learning essential cooking skills and had successfully passed their Level 2 Food & Hygiene course thanks to a fully funded course by the Speke Training & Education Centre (STEC).
The charity has been given a 30m x 15m allotment for residents to grow their own fruit and vegetables so they can apply the skills they learnt during the cooking skills course and serve up delicious, healthy meals.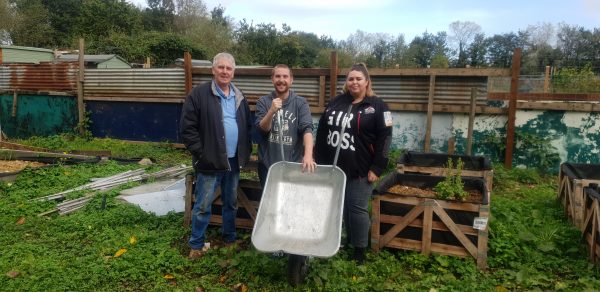 The disused site was overgrown and is now undergoing extensive maintenance, but the veterans are already planning what they will do with the site once it is ready for planting crops and sowing seeds.
Speke House resident, Luke Fraser, said:
"I took part in the cooking course to broaden my horizons and to kick start a healthier more nutritious diet. I didn't realise the allotment project would be starting soon and it has brought out a new desire to learn where food comes from, how it is produced, understanding how long to grow produce and even the types of soil and the shading or sunlight it may need, it's been a really interesting project to get involved in."
Alan Williams, Chairman of Chapel House Farm Allotments, said:
"When we heard that the residents of Speke House were learning new cooking skills, our committee agreed to gift them the use of an allotment which I hope will encourage them to grow their own produce and become self-sufficient. Some of the lads have been down here every day clearing it and getting it ready and we are always here to help them when they need us."
Sam Jackson, Manager at Launchpad's Speke House, said:
"Our residents have enjoyed learning new cooking skills and it is important they continued to apply their skills after the course. We are extremely grateful to Chapel House Farm Allotments for donating one of their sites for our residents to use as it is not only somewhere where they can grow produce but also learn new skills and get active and be outdoors, which is good for their mental health. I'm looking forward to trying some homemade meals freshly prepared by our residents."
Speke House consists of 48 bedsits including communal space and a garden for residents to socialise. In addition to safe, secure accommodation, staff also provide support with the assistance of specialist providers, to help veterans stabilise their lives and make a successful transition from military to civilian life. Last year, Launchpad supported 157 homeless and unemployed veterans at Speke House and at Avondale House in Newcastle.
For more information on this press release, please contact Craig Downs from Up North Communications on 0191 300 0810, 07811 287 922 or email craig@upnorthcommunications.co.uk
Photo caption: Pictured left to right: Allotment committee member Rob, Speke House resident Luke Fraser and Natalie Scully, Deputy Manager (Projects) from Launchpad pictured at the allotment in Garston.
Notes to Editors:
AF&V Launchpad is a registered Charity Number 1153185 and Company Number 8633047.
• For more information about Launchpad, please visit www.veteranslaunchpad.org.uk
• Launchpad welcomes donations to support its veterans, through its website
• Key partners that Launchpad work with are: Liverpool City Council, Newcastle City Council, Big Lottery, ABF The Soldiers' Charity, Royal British Legion, Veterans' Foundation, Forces Employment Charity, Addaction, Crisis Skylight, the NHS, SSAFA, Speke Training and Education Centre and Combat Stress, among many others.
Achievements in the last year have been as follows:
• At the end of September 2019, the total number of veterans helped since Launchpad opened in 2013 is 437.
• 42% of residents leave Launchpad with jobs.
• 69% successfully move on to settled accommodation, either living independently, reunited with family or with the support they need.
– Launchpad won the 'Working Together' award in the national 'Soldiering On Awards' and two founders were awarded the Prime Minister's 'Point of Light".
• Shortlisted for this year's Heropreneurs Awards, award announced 7 November 2019