Commander Jane Allen, the Victory Walker, set off from HMS Victory on 21 October 2017, to walk anticlockwise round the coast of mainland UK raising money for two naval charities, the WRNS BT and RNRMC.
In her last update, she had reached Campbeltown having clocked 3,000 miles. She finally crossed back into England on 10 November and picks up her journey from there.
By the time I walked into Cumbria I'd been on the road for over a year, of which a good six months had been spent walking 2,183 miles around the complicated coastline of Scotland. If my feet thought that was a long way, spare a thought for the support team driving the Victory Van which covered just under 4,000 miles in support.
I've frequently been asked about that time in Scotland and here are my reflections of this beautiful country of contrasts: golf courses galore; towering mountains; tiny fishing ports; swathes of forests; long lochs; mighty road bridges; roaming sheep; monster midges; parked oil rigs; running deer; piles of peat; timber lorry convoys; whisky distilleries; old stone bridges; redundant red telephone boxes; lighthouses; mighty bulls with rings in their noses; violent storms; whirring wind farms ashore and at sea; tiny settlements huddled against cliffs; generous, warm-hearted people; tourists 'doing' the North Coast 500 route; fish farms; cycle paths; minute isolated hamlets; clear skies with no jet trails; CalMac ferries; narrow steep roads and passing places; miles of sandy beaches; gin clear seawater; striking war memorials; bright sunshine; torrential downpours and rainbows; crofts and castles; community petrol pumps and tiny shops; and desolate uninhabited landscapes.
Nor did that sense of history leave me as I entered Cumbria and walked part of Hadrian's Wall, along to its westerly coastal start point at Bowness-on-Solway. From here I'd good views back across the Solway Firth to Scotland's coastline – it was an incredibly satisfying sight. As I made my way down the Cumbrian coast, I soon became aware of the vast estuaries I would have to walk up and round, starting with the Duddon that eventually led me into Barrow-in-Furness to meet some submariners. These are the lucky ones, bringing new submarines into service and currently not on long distance patrols.
Estuaries, nature reserves, vast mud flats, banks of dunes and miles of sand were a repeating theme in neighbouring Lancashire too. Sandy beaches seemed to stretch all the way from Morecambe, southwards through Blackpool, on to Lytham St Anne's, Southport, Formby and Crosby, petering out just before the River Mersey appeared through yet more wind and rain. Autumn has certainly seen me fight through lots of bad weather, including Hurricane Oscar and Storm Diana, to name but two unwelcome companions.
Liverpool's skyline with its iconic Liver, Cunard and Port of Liverpool Buildings is unmistakable. Former warehouse and wharf buildings surrounding the old Albert Dock have been regenerated, and more refurbishment of old dockside structures is planned. The City now offers an amazing choice of art galleries and museums. My frustration was a walking plan already running behind schedule, compounded by my having to declare myself 'sick' for a day. There was no time to savour Liverpool's famous hospitality.
Instead, I caught the famous Mersey ferry and began my walk around the Wirral. Again, mile upon mile of sand fell away into the Irish Sea. Later, as I turned up the Dee estuary, mud replaced sand as I headed for the Welsh border. Neither my cold, worsening foot injury nor sinusitis was going to stop me crossing onto the North Wales coast path! And I did, only to be told by a podiatrist that my foot needed rest before Christmas.
Resigned to my fate, and with my 'bootometer' reading six miles short of 3,900 miles, I decided this was Santa giving me an early Christmas present! The New Year will see me swing on my rucksack again and tackle the varied coastline of Wales. At least it will be a good deal shorter than Scotland!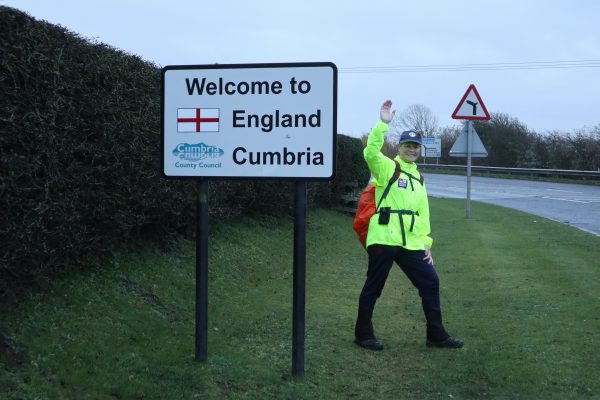 The Victory Walker waves goodbye to Scotland
The Victory Walk is raising money for two Naval charities, WRNS BT and RNRMC. To donate go to www.Virginmoneygiving.com/victorywalk17-18.
To find out more about Jane's Victory Walk go to www.victorywalk.uk