The PMP delivers an evidence based programme and we have adapted standard pain management strategies to meet the specific needs of the veteran population.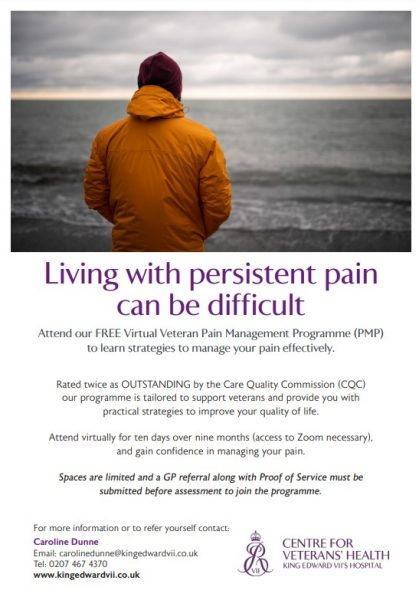 The overall aims of a PMP are to provide practical strategies to help veterans improve the quality of their lives alongside their pain. Strategies include: helping veterans gain a greater understanding of pain, managing physical activity and mood, and reviewing pain related medications in order to improve confidence in the day to day management of their pain.
Since the onset of Covid -19 we have been running the PMPs virtually on Zoom. The virtual PMPs make it possible for us to see veterans who would not have been able to travel to London in order to attend a residential programme, and based upon this and our outcome, we will be continuing with the virtual PMPs.
The PMPs are offered free to all Veterans.  The programme comprises of ten days over nine months. Referrals can be made via the King Edward VII's website or contact Caroline Dunne by email.  GP referral will be required along with proof of service.
Website: https://www.kingedwardvii.co.uk/the-charity
Email: cdunne@kingedwardvii.co.uk