On 5 February, The Veterans Charity welcomed the Shadow Armed Forces minister, Luke Pollard with local prospective candidate Perran Moon to our Veterans "Halt" in West Cornwall.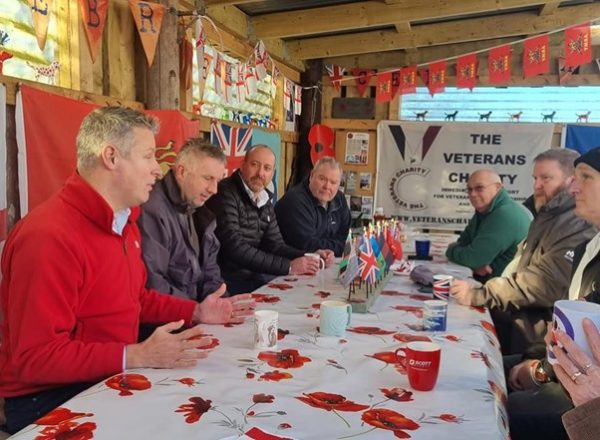 The Halt is a trackside former railway goods yard that was converted into a veteran's hub in 2020. Two local Armed Forces and Veterans Breakfast Club, lost their host venues in the pandemic and with Cornwall staying in the lowest restrictions, which allowed up to 15 people to meet in open air settings.
Working with Active Plus a Cornish based veterans led initiative and their Who Dares Works programme supported by Rebuild SW, another veteran led organisation. They provide a building training course for those out of work in Cornwall.
This meant that with items (donated by other veterans), they could run a building course for up to 10 individuals in creating a covered venue and toilet block for the Breakfast Clubs to use safely in a pandemic. So veterans supported veterans, to help others, to create something for veterans to use.
Perran was keen to visit a Veterans Breakfast Club, but with their only available dates fell on a day after our normal club meet, so we took the opportunity to host a special "brew and buttie" brunch. So we invited admins from other Local Breakfast Clubs and organisations to discuss Armed Forces Day 2023 which is being held locally in Falmouth.
The clubs represented were Penzance, Penwith (which covers Hayle and St Ives), Camborne & Redruth, Helston, Falmouth & Penryn and St Austell, a few others sent their apologies. We were also joined by the South West Veterans Affairs and Pensions Committee rep. Several of the attendees were double hatted and included representatives of, EPIC GiGAbility, Helston Old Boys, Commonwealth War Graves volunteers, the Royal Navy Association, The Memorial Mob and others. It was a great opportunity to discuss the coming year and invite people to join the Routes of Remembrance and the Ribbon of Poppies.
Luke in his role as the Shadow Armed Forces Minister, listened to people's experiences within the varied tri service roles and backgrounds they came from. He then went onto discussing the Armed Forces as he sees them developing in the future.
All in all a very useful chance to get some of the groups together and we are working on a bigger event later in the year to bring the Armed Forces and Veterans Breakfast Clubs together at a very special venue. More on that as plans develop!
Luke and Perran followed the only rule of the Veterans Halt and that was to acknowledge the passing trains!