Homeless charity Alabaré welcomed Minister for Welfare Delivery and MP for Colchester Will Quince to their services on 30 January.
Upon his visit to Alabaré's 41 bed supported accommodation project in Salisbury, the Minister was able to learn about the charity's work in providing housing and support to homeless and vulnerable people. In the time he spent there, Mr Quince was able to speak with a number of service users and staff members regarding their experiences with Universal Credit, for which he holds responsibility in the Department for Work and Pensions.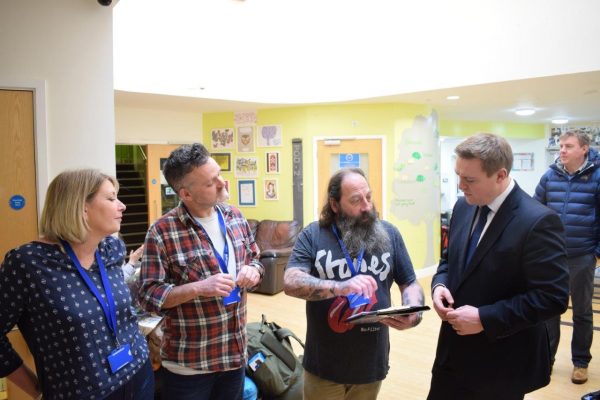 Mr Quince was also able to learn more about Alabaré's work with different marginalised groups in society including ex-service personnel and their Veterans Self Build programme.  The pioneering scheme enables homeless and vulnerable Armed Forces Veterans to assist in the construction of housing projects in which they are able to live upon completion.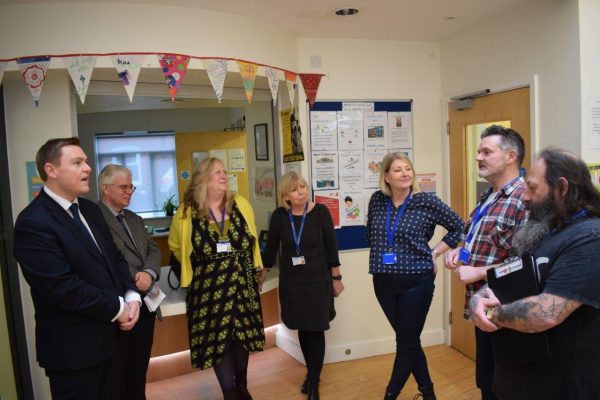 Minister for Welfare Delivery Will Quince said:
"This government is determined to help anyone experiencing homelessness or rough sleeping into stable accommodation and employment.

"This is not solely a government issue though and it is vital we work alongside organisations such as Alabaré, who do such fantastic work to support vulnerable people across England and Wales.

"I recently announced a £3 million fund, which will allow Jobcentre staff to get out on the streets to directly support those most vulnerable, helping with challenges such as benefit claims and directing them to additional support. This is in addition to £6 million to fund more than 100 Armed Forces Champion posts at Jobcentres across the country."
Alabaré provide supported housing and drop in facilities to homeless and vulnerable people across the South, South West of England and Wales. In addition to providing services for those suffering from homelessness, Alabaré also has specialist projects for young people, Armed Forces Veterans and adults with learning disabilities.
For more information or to arrange an interview call Harvey Taylor on 01722 344485.
Notes
At Alabaré we support people to overcome the barriers of homelessness, mental ill-health and learning disabilities in-order to have a home, health, choice and independence.
Alabaré Christian Care and Support provide the highest standards of accommodation and support to disadvantaged and vulnerable people in our communities in order that they can have a home, health, choice and independence. Since 1991, Alabaré have been working with people facing disadvantage through homelessness, mental ill-health, learning disability or a combination of these.  We provide housing and personalised support based on the individual needs and aspirations of each person, tackling underlying causes and giving them the skills and confidence to move forward with their lives.