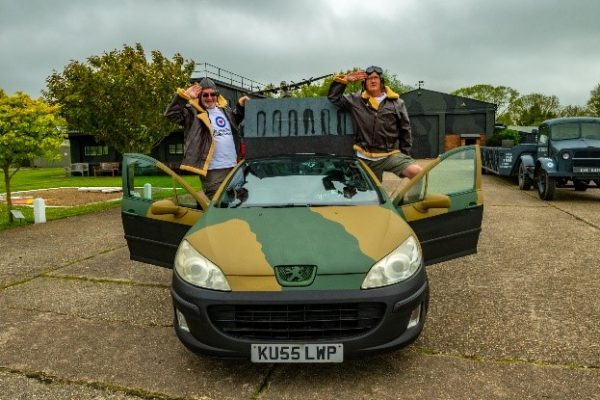 Caption: Clive Pattison (left) and rally partner Ewan Miller. Credit: Lisa Harding
On 30 June 2023, fundraiser Clive Pattison will be taking on the Barmy to Barcelona Wacky Rally race to mark the 80th anniversary of the Dambusters Raid, raising money for the RAF's leading welfare charity, the RAF Benevolent Fund.
The four-day banger rally, from 30 June – 3 July, will see the racers travel through seven European countries. Starting the race in Lille, the drivers will be taking in the amazing sights of the Swiss Alps, the rolling hills of Italy, the French Riviera, and finishing up in the Spanish Catalan capital.
Clive, 61, from Grenofen, West Devon, will be joined by his rally partner Ewan Miller on the 1600-mile drive. As per Wacky Rally rules, the car must cost under £500 and be decorated in the wackiest fashion possible. Clive will be competing for the third time in the race, sporting a modified Peugeot 407 to replicate a Lancaster Bomber plane with a miniature version popping out of the roof too.
Clive said:
"I started fundraising in 2019; this is my third time taking part in the Wacky Rally. The first year we entered as the 'Wacky Green Army' transforming the car into a tank with a turret which revolved and fired water, and at the end of the four-day Rally, we were awarded 'Wackiest Car'. Last year we entered as the 'Wacky Green Navy' and turned the vehicle into a lifeboat raising £1500 for the RNLI in the process and winning the competition overall.

"My wife and I run a café in Grenofen and one of our best pair of customers, Chris and Debby Henderson, pointed out that 2023 marks the 80th Anniversary of the Dambusters raids. Chris' father was the Flight Engineer on AJ-L, which was David Shannon's aircraft."
Clive continued:
"This year it seemed particularly fitting to continue the military theme, specifically focusing on the Air Force, transforming our vehicle into a Lancaster plane to raise money for the RAF Benevolent Fund. We are hoping to meet our target of £2000 for the cause."
You can find out more about the Wacky Rally event here.