A West Yorkshire blind veteran has secured his first international medal for Team GB at the British Taekwondo International Poomsae Championships in London.
Steve Birkin, 49 and from Shipley, competed in the competition last weekend as part of the GB Para-Poomsae squad.
Steve, who only started training in Taekwondo two years ago, says: "This is totally new to me, when I lost my sight I wanted a goal to focus on and Taekwondo was something I could channel all my energy towards. Initially, I just wanted to earn the belts but as soon as I started competing I completely fell in love with it. Since then I've been lucky enough to be scouted for the GB Para squad."
Steve, who was awarded Bradford Disability Sportsperson of the Year in 2018, is a member of the city's Horizon Taekwondo Club. He has competed six times at club level and won gold medals in each competition.
Steve says: "I've always been quite confident going into competitions but London was the first time I was representing Team GB and I was really nervous. But once I was there it felt fantastic, knowing I was part of the GB squad and representing my country. I was over the moon with the result."
After serving 12 years in the Royal Navy Steve suffered a back injury and was discharged on medical grounds. He went on to work in several roles within the IT sector but in 2014 his life changed forever.
Steve says: "I started having these weird headaches and after a couple of days I developed a blister on my eye so I was rushed to A&E. Within a month I was registered blind as a result of a rare condition known as chorioretinitis."
Steve had heard of Blind Veterans UK but was initially reticent about contacting the charity.
He says: "I wasn't sure about it at first, I'm not a charity case and I didn't want people looking after me. But, after hearing more about Blind Veterans UK, I thought I'd give it a go because I didn't have anything to lose. It was one of the best things I ever did. The charity helped me get back to having a normal life."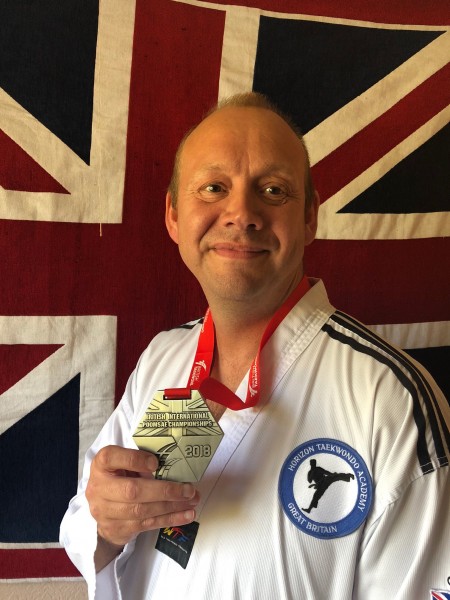 Steve was provided with training, support and equipment to help him adjust to his sight loss. He attended an induction course at Blind Veterans UK's rehabilitation and training centre in Llandudno, where he was provided with life skills training and taught how to use IT equipment using speech software.
Steve says: "Blind Veterans UK taught me that my sight loss shouldn't hold me back from living my life and trying new challenges. That's something that has really spurred me on with my Taekwondo."
With his first Team GB medal in hand, Steve is working towards a black belt in his club's next grading in December. He says: "There's a lot to do as the black belt is more complex than the other belts but I'm ready for it; this is what I've been working towards."
Blind Veterans UK was founded in 1915 and the charity's initial purpose was to help and support soldiers blinded in the First World War. But the organisation has gone on to support more than 35,000 blind veterans and their families, spanning the Second World War to recent conflicts including Iraq and Afghanistan.
The charity has a dedicated community team in Yorkshire who provide support including training, equipment and social events for vision-impaired ex-Service men and women in the local area.
If you know someone who has served in the Armed Forces and is now living with sight loss, please contact 0800 3897979. Visit blindveterans.org.uk/support to learn more about the charity and how you can support its vital work today.
For all media enquiries please contact:
Bik Lee
Marketing & Communications Executive
Blind Veterans UK
E: bik.lee@blindveterans.org.uk
T: 07783 156 522
Notes to Editors:
Blind Veterans UK
Blind Veterans UK is a national charity that believes that no-one who has served our country should have to battle blindness alone. Founded in 1915, the charity provides blind and vision impaired ex-Service men and women with lifelong support including welfare support, rehabilitation, training, residential and respite care.
Find out more at: blindveterans.org.uk, follow us on Facebook at: facebook.com/blindveteransuk and on Twitter at: twitter.com/blindveterans.