Over £1,500 has been raised for Salisbury-based charity Alabaré after their Wiltshire ambassadors held a 'Nelson v Wellington' debate evening.
The evening saw the two esteemed military figures pitted against one another with the question "Who better deserved the thanks of his country: Nelson or Wellington?" posed to the audience in attendance. Making the case for Wellington was freelance historian Dr Russ Foster, and Huw Williams, Alabaré's first Welsh ambassador and Chief Legal Adviser to the Presiding Officer of the National Assembly for Wales, in favour of Nelson.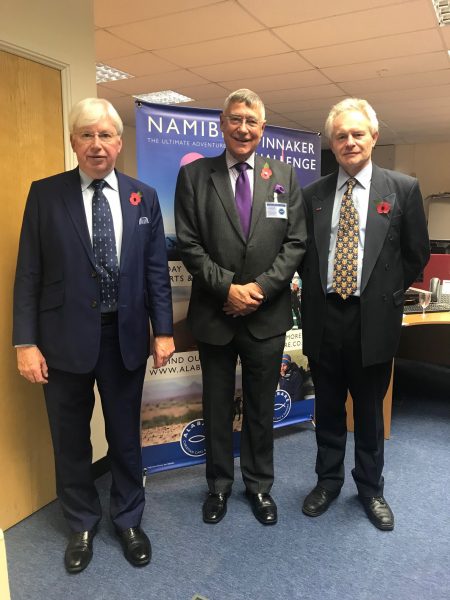 After a pre-indicative vote and each speaker making their case for their subject, a post-indicative vote was held in which Wellington emerged victorious!
Commodore Richard Lord, chairman of the Wiltshire Ambassadors said;
"In my first role as speaker of 'The Houses of Alabaré', I was delighted with the evening. The setting in the form of a Parliament chamber gave a new way of providing an entertaining and informative evening in a challenging style. I am most appreciative of the effort that the excellent speakers had put into their presentation and the audience's participation. Also, the significant inputs from the Wiltshire Ambassadors and Alabaré staff which had let to over £1,500 being raised. Reluctantly as a Naval Commodore I recognise that the better man won on the evening"
For more information or to arrange an interview call Harvey Taylor on 01722 344485.
Notes
At Alabaré we support people to overcome the barriers of homelessness, mental ill-health and learning disabilities in-order to have a home, health, choice and independence.
Alabaré Christian Care and Support provide the highest standards of accommodation and support to disadvantaged and vulnerable people in our communities in order that they can have a home, health, choice and independence. Since 1991, Alabaré have been working with people facing disadvantage through homelessness, mental ill-health, learning disability or a combination of these.  We provide housing and personalised support based on the individual needs and aspirations of each person, tackling underlying causes and giving them the skills and confidence to move forward with their lives.