A blind veteran from Wiltshire is walking 100 laps of the retirement complex that he lives in to raise money for Blind Veterans UK.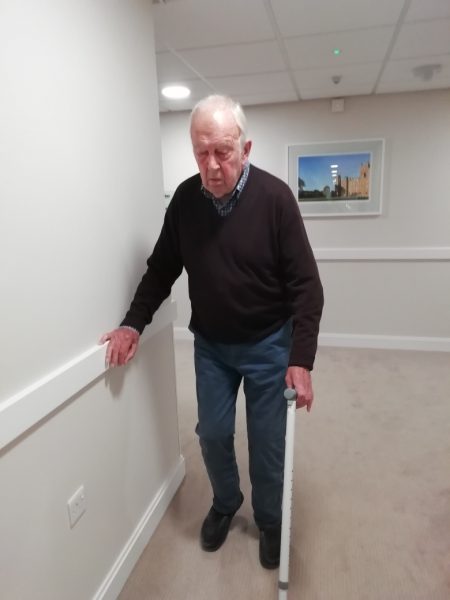 Martin Pribyl, 83 and from Swindon, started the 12 mile (19km) challenge on Monday 21 September and hopes to finish by the end of November. He says:
"Movement is difficult for me and I struggle with balance because of my sight loss. During lockdown I've been walking up and down the ground floor corridors unaided for exercise and to regain my independence. One of the other residents walked pasted one day and made a comment that they should be sponsoring me for all the walking I'm doing. That's when I had the idea to do a walking challenge!"
Martin, who served in the Royal Air Force, lost his sight suddenly in July 2019. He says:
"I was diagnosed with Giant Cell Arteritis and sight loss is a complication associated with my disorder. It was very sudden, I woke up one morning and my sight was gone. This has been a big challenge for both myself and my wife, Mary".
Shortly after losing his sight, Martin heard about Blind Veterans UK from another resident in the retirement complex who was being supported by the charity.
Martin's wife, Mary says:
"Another gentlemen told us about the charity and Martin joined at the end of last year. We both went to an introduction week at the charity's training and rehabilitation centre in Brighton in February. It was great to meet other veterans and their partners.

"Martin came back from that week a lot more motivated but then we went into lockdown and because he has to shield, we've both found it difficult. The challenge has been great for Martin and given him the opportunity to give something back to the charity".
Martin has so far walked 11 laps and aims to walk between 1 to 3 laps a day between now and the end of November. Mary says:
"Some days Martin will do 3 laps or other days he may struggle to do one but he's doing great so far! Everyone has been so generous and other residents have been down to support Martin while he's doing the challenge. It's given us both a great sense of community especially during these uncertain times".
So far Martin has raised over £1800. If you would like to help Martin raise even more money, his fundraising page is here: justgiving.com/fundraising/martinpribyl
Nicky Shaw, Blind Veterans UK Director of Operations said:
"Living in isolation, blind veterans need our help right now with daily tasks, such as the shopping, and constant emotional support through this difficult time. So we are temporarily changing our service and mobilising our staff to provide practical, essential support to help the most vulnerable.

"There is so much that we can and must do to support blind veterans to help them maintain physical and emotional wellbeing, and to feel safe, reassured and cared for during this crisis."
You can keep updated on Blind Veterans UK's response to Covid-19 at blindveterans.org.uk/coronavirus where you can also find out more about supporting the charity to make this new service possible.