Three thrillseeking women defied gravity to raise vital funds for the Royal Air Forces Association (RAF Association).
Meg Atkinson MBE of Wiltshire, Clair Ryer of Oxfordshire and Nikita Lydon of Newcastle were strapped to the wing of an aircraft and flown above the English countryside to raise more than £4,000 for the charity.
They were exposed to an exciting series of flypasts, zoom climbs, dives and banking turns, all while balancing on the wing of a 1940's Boeing Stearman biplane, piloted by former RAF pilot and veteran of the British aerobatic scene, Brian Cornes.
The wing walk was organised in support of the RAF Association's Wings Appeal which offers of support, help and friendship to serving and veteran RAF personnel and their families.
Meg, who was awarded an MBE in 2009 for her ministerial services to RAF Lyneham, said she was no stranger to spending time in the air. She explained: "I was very excited to be in the air and experience the freedom that comes with being up so high. In the past I have completed two parachute jumps from a hot air balloon as well as two tandem skydives.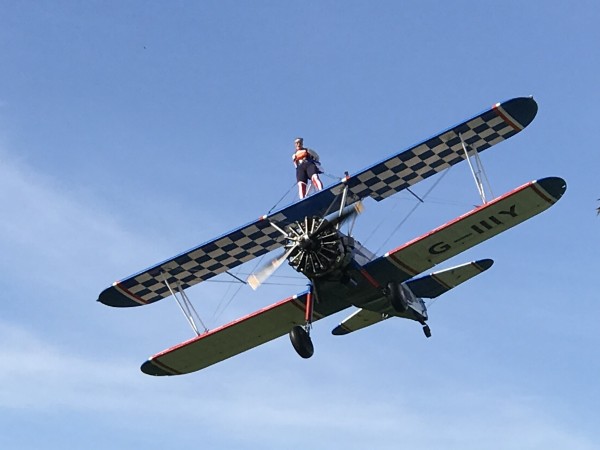 "For my 70th birthday I'd love to be fired from a cannon through a ring of fire. My friends and family think I'm crazy but I am always up for a challenge!"
Clair, who serves as a Logistics Sergeant at RAF Brize Norton, said her family thought she was bonkers for following through with the stunt. She explained: "I'm a bit of a thrillseeker so to have the chance to raise money for the RAF Association while challenging myself was too good an opportunity to miss. Nobody else in my family would do this!"
Nikita, a caterer at RAF Brize Norton, and self-confessed adrenaline junkie, said: "I love a challenge and, having already done a parachute jump in the past, I was excited to be back in the air. My friends and family think I am crazy but I love it!"
Helen Tempest, Challenge Events Manager at the RAF Association, said: "We would like to say a huge thank you to everyone brave enough to take part. Wing walking can be a once in a lifetime experience. To be in the air and among the clouds with views of the ground below is very special."
The RAF Association will be staging other wing walking experiences at RFC Rendcomb Airfield in Gloucestershire.
If you would like to find out about taking part while supporting a good cause, please visit www.rafa.org.uk/get-involved/challenge-events-challenge-yourself/.
–
Notes to editors:
Contacts
About the Royal Air Forces Association
The Royal Air Forces Association (or RAF Association) is a membership organisation and registered charity that provides welfare support to the RAF family.
The Association recognises that RAF personnel and their immediate families dedicate their lives to their country, and we believe that such a sacrifice should not result in suffering, poverty or loneliness.
Whether it's an injured airman or woman fighting to get back on their feet, a young child missing their parent away on overseas operations, or a World War II veteran needing a shoulder to lean on, we are here to help all generations of RAF personnel and their families.  We also support serving families if they need us. We give practical, emotional and financial support.
Our membership of more than 72,000 includes serving RAF personnel, veterans and members of the public who want to show their support for the work that we do.
Across the UK in 2017 the Association carried out more than 115,000 welfare contacts, calls and visits, helped tell thousands of bedtime stories to children whose parents were away on operations, and gave tailored holidays to 2,500 RAF veterans, widows and family at our Wings Breaks hotels. Our support ranges from simply providing conversation and friendship to preparing and submitting application forms for financial assistance.
Charity numbers: 226686 (England and Wales), SCO37673 (Scotland).