A women's friendship club in Liverpool has chosen veterans' charity, Launchpad as their adopted charity for 2022.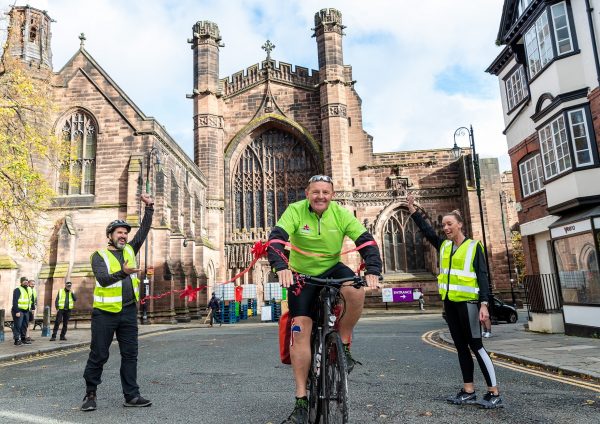 The group, which was set up 19 years ago and consists of over 50 members, meet regularly at Christ The King Parish Club at Score Lane with the aim of developing friendships, tackling loneliness and simply enjoying each other's company.
The club organises day trips and weekends away with various speakers and entertainers to keep the group entertained.
They raised and donated £256 towards Gary Perriton's 650-mile solo bike ride of the entire Welsh coastline, which he successfully completed last October.
Gary, from Llangollen in Wales, cycled from Chepstow to Chester to raise awareness of homeless veterans and over £5,000 for Launchpad and The Royal British Legion.
The Women's Friendship Club have chosen Launchpad as their nominated charity for 2022 to help raise even more funds to support homeless veterans.
The Women's Friendship Club was set up by Adriana Turner (Chair) and Olga Turner. Olga, 95, said:
"Gary's mam is one of our committee members and she told us about her son's cycling challenge so our members wanted to help and support him – it's a great charity helping our homeless veterans.

"We wanted to continue to raise funds throughout the year for Launchpad and hope that the money will contribute towards the wonderful service they provide. Some of our members are former serving personnel and we're looking forward to welcoming Launchpad's CEO, David Shaw to visit us in April and hearing more about the vital work this wonderful charity does to support our veterans."
Sam Jackson, Manager of Speke House, said:
"We are so grateful to all of the members of the Women's Friendship Club for not only supporting Gary in his recent cycling challenge but also choosing Launchpad as their adopted charity for 2022. As a charity, we rely on personal and corporate donations to contribute towards the running costs of the house and to provide the essential services to our residents. This will go a long way and we are looking forward to meeting the members."
Launchpad's Speke House is the city's largest veterans' accommodation in Liverpool and provides safe, secure accommodation and other essential support, with the help of partner organisations, to 48 veterans to help them make a successful transition to civilian life. The house has supported over 300 veterans since it opened in 2015.