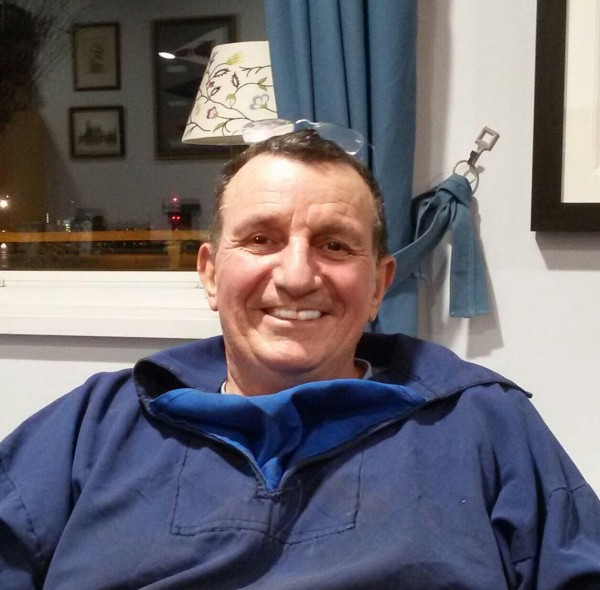 A blind veteran from Worcestershire is set to march at the Cenotaph in London this Remembrance Sunday (12/11) with the charity Blind Veterans UK.
William Turner, 67 and from Malvern, will be marching at the Cenotaph in London with more than 100 other blind veterans supported by Blind Veterans UK, the national charity for vision-impaired ex-Service men and women.
William says: "Remembrance is a massive part of my life. We lost so many people in the Second World War, I personally lost family. It's a time to express my gratitude for the people who've gone before me.
"I've been fortunate enough to have marched before and it's a privilege to be part of what I consider an integral part of British society. It's such a well-run event, I'm just hoping I don't step on anybody in front of me!"
After leaving school at the age of 15, William joined the Royal Navy where he served as a radar operator, a diver and in the helicopter air crew. It was at this time that he gained his pilot's license, thus enabling him to become both a flying and diving instructor, occupations he would maintain until he lost his sight. He then served in the Special Forces from 1976 to 1983, during which time he toured several combat zones, including Northern Ireland and The Falkland Islands. William retired from the Services as a Corporal.
Following his military career, William spent time working for both the fire services and police – including tours of Bosnia and Kosovo as part of a UN drug enforcement team – before sailing solo around the world and maintaining his exceptionally active lifestyle.
William suffers from glaucoma and first began receiving the free lifelong support of Blind Veterans UK in 2014. It is through the charity that William has been able to excel in his latest passion – painting. He explains: "Seeking Blind Veterans UK's support has been the best thing that could have happened to me. I have carried my easel up the Malvern Hills just to sit there and paint. It's just fantastic and I often find myself getting carried away and painting into the early hours of the morning."
Despite not having painted since school, William has exhibited a range of his work in a number of venues, including Westminster Abbey and the British Embassy in Kosovo. William says: "The staff and volunteers at the charity's Llandudno centre are very positive and friendly. Their can-do attitude is infectious and it's safe to say the art bug has definitely bitten."
William is set to march with other vision-impaired ex-Service men and women supported by Blind Veterans UK as part of the national Remembrance Sunday commemorations in London on Sunday 12 November 2017. Specsavers stores across the UK will be fundraising from 6 to 12 November on behalf of Blind Veterans UK to help William, and others like him, march at the Cenotaph.
Specsavers has supported Blind Veterans UK since 2012 and, as well as raising money for the charity, has referred a number of customers to them so they can access its support.
Chief Executive of Blind Veterans UK, Major General (Rtd) Nick Caplin CB says: "Remembrance Sunday is always a very poignant time for our blind veterans and it is fantastic that Specsavers are able to support them to get to march at the Cenotaph.
"Today, Blind Veterans UK supports more blind and vision-impaired veterans than ever before in the charity's history and we have set an ambitious target to double the number of veterans we support in the next five years."
Blind Veterans UK is the national charity for blind and vision-impaired ex-Service men and women, providing vital practical and emotional support to help veterans discover life beyond sight loss. The charity estimates that there are currently 59,000 blind veterans that would be eligible to access its specialist support, most of whom are not currently aware of it.
If you, or someone you know, served in the Armed Forces or did National Service and are now battling severe sight loss, find out how Blind Veterans UK could help by calling 0800 389 7979 or visiting blindveterans.org.uk
For all media enquiries please contact: Mark Wheeler, PR Manager, Blind Veterans UK, 12 – 14 Harcourt Street, London W1H 4HD E: mark.wheeler@blindveterans.org.uk, T: 020 7616 7980
Notes to Editor
Blind Veterans UK
Blind Veterans UK is a national charity that believes that no-one who has served our country should have to battle blindness alone. It provides blind and vision-impaired ex-Service men and women with lifelong support including welfare support, rehabilitation, training, residential and respite care.
Find out more at: www.blindveterans.org.uk, and follow us on Facebook at: facebook.com/blindveteransuk and on Twitter at: twitter.com/blindveterans.