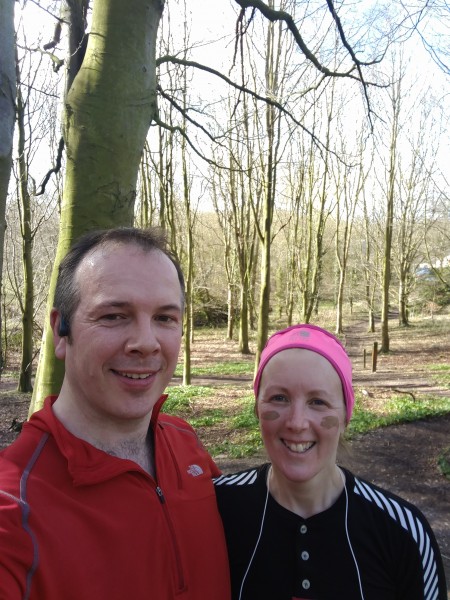 A woman from Wrexham is preparing to take on a daunting 10km Chain Runner challenge, where contestants compete while chained to at least one other person, with the funds raised going to Blind Veterans UK, the national charity for blind and vision-impaired ex-Service men and women.
Susie Trow, mother of one, has been working with a personal trainer since October and one of her main objectives has been to set a series of three month goals. She says: "I train about twice a week in the gym and it's great, but ultimately it's pretty open ended stuff. Ideally I want to have a goal, something to work towards and something to achieve!"
The challenge's website offers little in the way of detail, with participants instead having to make do with just the names of the obstacles. With titles such as 'The Plunge', 'Shocking Crawl' and 'Cliff Face', the picture painted is of a challenge suitable only for the bold and courageous. Despite this, Susie was able to convince her friend, Lara, that the challenge, which will take place on 25 March in Thurstaston, will be well worth it.
Susie, who works in network marketing as well as running a property portfolio, decided to compete on behalf of Blind Veterans UK after meeting Shaun Stocker, a blind veteran also from Wrexham, who has been receiving support from the charity since 2010. She says: "My husband and I run a local property meet in Wrexham. We invest in property and it turns out this is something Shaun himself is quite experienced in. We were just so inspired by hearing his story and his incredible bravery in the face of adversity. He was a speaker at a meet we held last month and he was just so motivational, the way he's dusted himself off and got on with life is incredibly inspiring."
It was on hearing Shaun's experience with the charity that she decided she wanted to raise money for the organisation, which provides free lifelong services to blind veterans. She says: "He spoke so positively about the charity and what a massive support network they were in helping him regain his independence and confidence. I'm looking forward to being able to support the charity in any way I can."
Susie's philanthropic endeavours for the year will, incredibly, not finish with the Chain Runner challenge. She says: "As well as the Chain Runner, I've got a 5k trail run on 19 March and then the Delamere Commando Trail on 16 July. My husband has already signed up for seven trail runs this year too, so it's safe to say we're in for a busy year, but we're fortunate enough to live by Erddig Park and Llandegla Forest, so we're spoilt for good spots to train in!"
To support Susie as she takes on the Chain Runner Event for Blind Veterans UK, please visit: https://www.justgiving.com/fundraising/Susie-Trow1.
For all media enquiries please contact: Felix Arbenz-Caines, PR Assistant, Blind Veterans UK, 12 – 14 Harcourt Street, London, W1H 4HD, E: Felix.Arbenz-Caines@blindveterans.org.uk, T: 020 7616 7941
Notes to Editor
Blind Veterans UK
Blind Veterans UK is a national charity that believes that no-one who has served our country should have to battle blindness alone. Founded in 1915, the charity provides blind and vision impaired ex-Service men and women with lifelong support including welfare support, rehabilitation, training, residential and respite care.
Find out more at: blindveterans.org.uk, follow us on Facebook at: facebook.com/blindveteransuk and on Twitter at: twitter.com/blindveterans.