96 year old Squadron Leader Allan Scott DFM returned to Biggin Hill earlier this month and took to the skies in a beloved Spitfire where he performed a flypast and victory roll.
Allan originally flew from Biggin Hill in 1941, towards the end of the Battle of Britain. Following his time there, he was posted to Malta, which was under siege with continual raids by the Luftwaffe and the RAF were battling against heavy odds. He flew his Spitfire off HMS Eagle to the island on 21st July 1942, where he saw much action – including a victory during Operation Pedestal on 13th August.
This year marks 75 years since the Siege of Malta came to an end and Allan is working with the RAF Benevolent Fund, the RAF's leading welfare charity, to raise awareness of the anniversary and those who sadly did not return home.
Allan was joined by his son Murray, who flew alongside his father in MJ627, a two seat Spitfire operated by Biggin Hill Heritage Hanger.
Squadron Leader Allan Scott DFM said:
"By the end of my RAF career I had flown over 80 aircraft but the Spitfire was always my favourite and to have had the opportunity to fly in it again with my son alongside me has been a wonderful experience. There is nothing quite like being in a Spitfire and today has given me an opportunity to relive some of the many happy memories I have from my time in the skies in this glorious machine."
"Life was quite hectic in Malta because there was no food but you flew whether you were starving or otherwise. Life of a fighter pilot in Malta was given as 15 minutes. At the height of the fight we were scrambled four times a day, they pushed everything into that theatre to try and finish us. We were a real thorn in their side and we had to be wiped out, which they didn't do fortunately."
"This year marks 75 years since the Siege of Malta came to an end and I am hoping to head back to the island this summer to mark the occasion."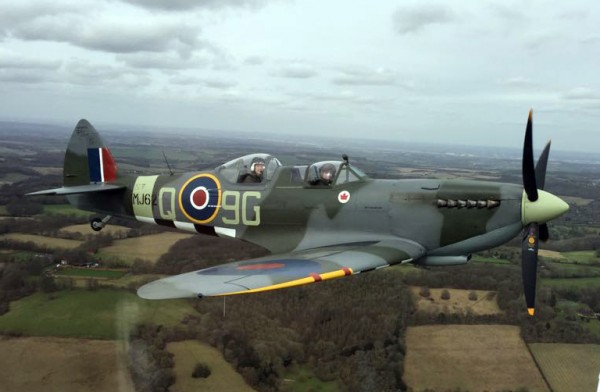 [ENDS]
For more information and high res images please contact Lee Krawczyk, Public Relations Officer on 020 7307 3305 or email lee.krawczyk@rafbf.org.uk
Images Copyright of Adrian Brooks / Imagewise. Photo credit must read: Adrian Brooks/Imagewise
Notes to editors
About the RAF Benevolent Fund: The Royal Air Force Benevolent Fund is the RAF's leading welfare charity, providing financial, practical and emotional support to serving and former members of the RAF, as well as their partners and dependants. We help members of the RAF family with everything from disability, injury, financial hardship and youth support to living independently and providing dignity in retirement.
For more information visit:  www.rafbf.org Twitter: www.twitter.com/RAFBF