[1 April 2018] A Vic-formation of two Spitfires and a Hurricane returned to the skies over London on 1 April to mark the centenary of the Royal Air Force. Among the pilots taking off from Biggin Hill Heritage Hangar, was Second World War Spitfire pilot Allan Scott, watched by another former RAF Second World War Spitfire pilot, Mary Ellis.
Known as a flying ace, 96-year-old Squadron Leader Allan Scott DFM returned to Biggin Hill, where he was posted in 1941 aged just 19 with 124 Squadron.
Following his time at Biggin Hill, where he had his first combat experience, Allan was posted to Malta, which was under siege with continual raids by the Luftwaffe where he flew his beloved Spitfire, helping to defend the island.
Allan was watched by special guest, Mary Ellis, who at 101 is the oldest surviving member of the Air Transport Auxiliary wing. Mary delivered around 1,000 aircraft on her own – including Spitfires and Wellington Bombers from factory to frontline air bases during the Second World War.
Allan, an Ambassador for the RAF Benevolent Fund, returned to Malta last year to help commemorate the 75th anniversary of the Island receiving the George Cross, in recognition of the continuing heroism and bravery they showed during the great siege of the Second World War.
Giving a thumbs-up as he arrived back after his flypast, Allan said: "I enjoyed every bit of it and I flew for quite a while in the air, some good steep rolls. And then we did a victory roll to show you all we could roll. Every time one shoots an air craft down you've got to let your ground crew know you've got a victory. If you roll twice you've shot two down, if you roll once you've got one.
"It was no trouble at all. Age doesn't matter, it doesn't matter at all. I'm going to fly it on my 100th birthday it's all booked ready!"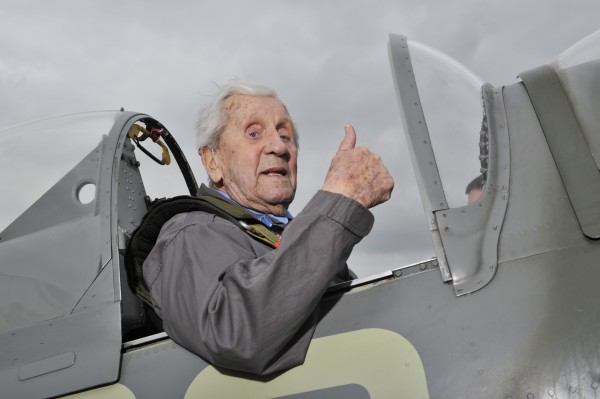 Speaking earlier about the RAF100 commemorations, Allan said: "The RAF have stood in defence of the UK for 100 years, just as the RAF Benevolent Fund has stood side by side with its personnel, past and present. I don't know where the UK would be without the support of the RAF and I don't know where the RAF would be without the support of the RAF Benevolent Fund."
The Vic-formation was part of a series of events taking place on 1 April, the RAF's official 100th birthday. It flew past the airfield twice before the two-seater flown by former RAF pilot Dan Griffiths
Peter Monk, founder of Biggin Hill Heritage Hangar, said: "It was our honour to host two incredible RAF veterans on this most auspicious occasion exactly 100 years to the day of the foundation of the world's oldest independent air force."
RAF Benevolent Fund Chief Executive, Air Vice-Marshal David Murray said: "Allan and Mary's service epitomises everything we celebrate today on the 100th anniversary of the formation of the Royal Air Force. Their selfless service, bravery in the face of adversity and self-sacrifice are the foundation blocks of the modern RAF we see today."
If you would like to be part of the RAF100 celebrations visit www.raf100appeal.org where you can find out more about the celebratory events planned and also support the RAF100 Appeal, which supports the RAF Benevolent Fund, RAF Association, RAF Museum, RAF Charitable Trust and the RAF.
Ends
For more information and high res images please contact: Rebekah Sharrock, PR Officer, RAF Benevolent Fund, E: rebekah.sharrock@rafbf.org.uk | T: 020 7307 3305 | M: 07595 657979.
RAF Benevolent Fund: The Royal Air Force Benevolent Fund is the RAF's leading welfare charity. We exist to support current and former members of the RAF, their partners and dependants, whenever they need us. In 2016 we spent £17.6m supporting more than 65,000 members of the RAF Family. For more information visit:  www.rafbf.org Twitter: https://twitter.com/RAFBF
Biggin Hill Heritage Hangar provides the opportunity for the general public to  view and get  close to a selection of wartime aircraft.  Incorporated within the hangar is The Spitfire Company (Biggin Hill) Ltd, the foremost company in the world currently restoring Spitfires to flying condition. Situated on the historic airfield at Biggin Hill in Kent, itself the Sector C controlling airfield of No. 11 Group, Fighter Command during World War Two, the hangar is home to 13 Spitfires, as well as a  Hurricane X, North American Harvard FE788, a Messerschmitt 109E and an American Piper Cub L4H 11145.
The Heritage Hangar also offers Spitfire flights , to the general public where guests find out just what it was like to fly such an iconic aircraft, even to taking the controls and flying it themselves. https://flyaspitfire.com/