A Second World War blind veteran from Cardigan in Dyfed will be experiencing a very special Christmas this year surrounded by other vision-impaired ex-Service men and women at Blind Veterans UK's training and rehabilitation centre in Llandudno.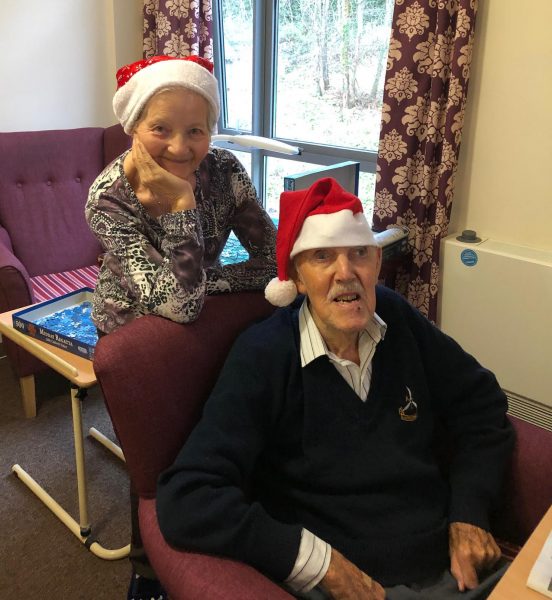 95-year-old Bill Needham and his wife Jean would otherwise have spent Christmas as a two, with their nearest family being over 200 miles away. Bill says:
"I like talking to people, so this year has been hard. I haven't been able to see anyone at home and I've only been out of the house once since March.

"I'm so happy to be spending Christmas here in Llandudno and being able to chat with other people in the same position as myself is fantastic. I just love the camaraderie and chatting about the war years with others who also went through it."
Jean says:
"Coming here gives me some needed rest bite as I know I can leave Bill here and there are loads of brilliant staff that will look after him."
Blind Veterans UK's Llandudno training and rehabilitation centre closed in March and remained closed until October of this year when it started to welcome back blind veterans who were most in need of support.
Seven blind veterans arrived in Llandudno at the beginning of December to allow for a two-week isolation before enjoying the festive period together. After enjoying lunch together on Christmas Day they will be watching the Queen's Speech and having a traditional Christmas Day. They will also be bringing in the new year together.
Bill joined the RAF in 1943 and served as a Rear Gunner until his discharge in 1947. It was later in life at the age of 90 that retinal vein occlusion and cataracts caused Bill to lose his sight.
Luckily soon after Bill found out about Blind Veterans UK who have been supporting him ever since. He says:
"I came in for my introductory week where I learnt about how I was going to adapt to living with sight loss. The training and equipment they gave me was just wonderful. Something as simple as a magnifier means I can continue to read things like the post by myself.

"I have a support worker who checks in with us frequently to make sure we've got everything we need. They're just wonderful. Nothing is too much trouble."
Blind Veterans UK has adapted its service to support its 5,000 beneficiaries, 90% of whom are over 70 and at an increased risk from Covid-19. The National Support Service has and will continue to help blind veterans through this period of social isolation.
Nicky Shaw, Blind Veterans UK Director of Operations said:
"Living in isolation, blind veterans need our help right now with daily tasks, such as the shopping, and constant emotional support through this difficult time. So we are temporarily changing our service and mobilising our staff to provide practical, essential support to help the most vulnerable.

"There is so much that we can and must do to support blind veterans to help them maintain physical and emotional wellbeing, and to feel safe, reassured and cared for during this crisis."
You can keep updated on Blind Veterans UK's response to Covid-19 at blindveterans.org.uk/coronavirus where you can also find out more about supporting the charity to make this new service possible.