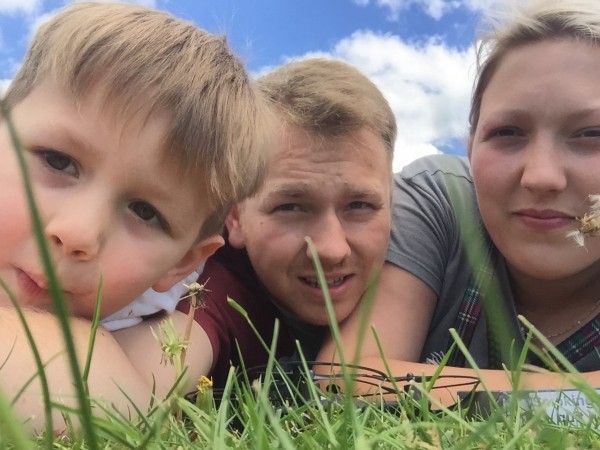 X-Forces is proud to announce that it has officially broken another glass ceiling, having supported 1,000 entrepreneurs, and lent over £9M in seed capital to help veterans and their families start their own businesses.
X-Forces 1,000th Success Story: Lee Harris-Hamer
The 1,000th recipient of X-Forces' support, Lee is the owner of White Horse Cleaning Company Limited https://www.whitehorsecleaningservices.co.uk/, based in in Thirsk, North Yorkshire. In just 13 short months, Lee has grown White Horse into a complete professional, flexible and reliable cleaning service.
White Horse offers:
Domestic cleaning
Commercial cleaning
Carpet cleaning
End of tenancy cleaning
Upholstery cleaning and more.
Lee is married to Brogan and they have a young son, Reggie. Lee's family has been his biggest motivation to succeed.
An entrepreneur's journey
Lee joined the Royal Artillery in 2008 as he wanted to gain life skills, job security and see the world. He was deployed to Afghanistan in 2010 and again in 2012. Lee was discharged on medical grounds with a back injury and mental ill health.
When Lee returned from service he felt like he was without skills. He had lost his job and nearly lost his home and family. But Lee knew he was good at cleaning, so he started a small carpet cleaning business.
Successes and challenges
Lee came to X-Forces with plans to grow his business. He attended an X-Forces one-day Introduction to Business Skills course https://www.x-forces.com/abf-the-soldiers-charity/ supported by ABF The Soldiers' Charity https://www.soldierscharity.org/, and soon after applied for and received an X-Forces expansion loan https://www.x-forces.com/funding/. Lee now works with a 16-strong team who provide a complete cleaning service in North Yorkshire and surrounds.
Brig (Ret'd) Robin Bacon, from ABF The Soldiers' Charity said, "It is vital to equip those who are looking for that next step in the business world with the necessary skills to give them a head start."
The greatest challenge for Lee has been in finding reliable and motivated staff. He met this challenge head on by hand picking his team members, building them up, and giving each person a clearly-defined role. In return, Lee gives his staff loyalty, dedication and reliability, and they have reciprocated these qualities. Lee is incredibly proud of the support he and his team members provide each other.
Lee says that to succeed in business you must be prepared to learn something new every day, keep your wits about you and trust your instincts.
Lee also says that you can earn a good living and have a successful business doing the little, but essential things in life, such as cleaning.
Lee's top tips for business success are: enthusiasm, focus and determination.
Moving forward: the next chapter
Lee is all too aware that when you return from service with an injury or mental health difficulties you can sometimes feel that life is worthless, but he wants people to know that despite the state of your health you can move forward.
"Anyone can do it, you just have to believe in yourself", says Lee.
Lee aims to share his skills and experience with other veterans who have had a similar experience to him. He is a keen mentor, having previously taught life-skills to school boys with autism, and feels mentoring is a fantastic way to give something back.
X-Forces CEO Ren Kapur added, "Transition out of the Forces, and starting a business are often difficult times for entrepreneurs and their families, but you do not need to be in it on your own, there are organisations there to support you. Lee is ideal to be promoted to our Big Business supporting Small Business mentoring programme https://www.x-forces.com/mentoring/, so we can help him gain additional contracts."
Find out more
White Horse has been nominated by a client for a Hambleton Customer Service Business Award https://www.hambleton.gov.uk/businessawards/. The Awards will take place on Thursday 6 July 2017. X-Forces wishes Lee the best of luck and looks forward to working with him further through our mentoring programme.
Find out more about White Horse https://www.whitehorsecleaningservices.co.uk/. You can also follow Lee and the team on facebook https://www.facebook.com/whitehorsecleaningservices/. Find out more about X-Forces http://www.x-forces.com or follow us on Twitter http://www.twitter.com/officialxforces/ or Facebook https://www.facebook.com/XForces/.
**ENDS** 
Notes to Editors;
X-Forces
X-Forces is a social enterprise (Community Interest Company) that nurtures entrepreneurial ambition in the UK military community, supporting start-up and scale up businesses which highlights innovative career opportunities for entrepreneurs and entrepreneurs form the community.
The overriding ambition is to provide sustainable and exciting careers through enterprise and employment that provide job satisfaction and security.
X-Forces' support extends to service leavers, veterans, reserves, spouses, dependants and cadets (over the age of 18).
Since its launch in 2013, X-Forces has supported over 1000 start-up businesses to launch, and facilitated £9.5m of seed-capital lending (Correct at 04.07.2017), as an official delivery partner of the government's Start Up Loans Company.
The MoD has appointed X-Forces as the Business Enterprise Trainer for the Career Transition Partnership, delivering support and training to those expressing an interest in business ownership and self-employment.
X-Forces is headquartered in London, with a further office in Birmingham and remote representatives across the UK. X-Forces is patroned by Lord Young of Graffham, former advisor to the Prime Minister on Enterprise.
www.x-forces.com T:  0800 307 7545 
For further information please contact; Louisa Willoughby, E: louisa@x-forces.com, T: 0207 811 3236