It has been a busy – and successful – recent couple of weeks for the Staffordshire Branch of SSAFA, the Armed Forces charity.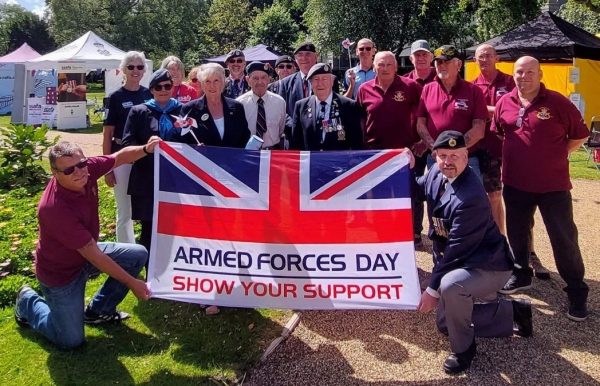 SSAFA volunteers took part in Armed Forces Day with events in Stafford, Newcastle-under-Lyme, Longton, Oakwood Prison, Uttoxeter Lions Club, and the Provincial Grand Lodge of Staffordshire and everywhere they went, volunteers from the UK's oldest tri-service charity were given a warm welcome.
SSAFA Staffordshire Branch Secretary Anne MacKinnon said that Armed Forces Week was blessed with good weather, which helped bring out the crowds, adding:
"We had a fantastic time at all the events we went to, and it was a superb opportunity to meet new friends, renew acquaintances, and generally raise the profile of SSAFA sometimes to a whole new, letting them know about the vital work we do with veterans, those still serving, and their families day in, day out."
One of the highlights for the branch was when Anne, Branch Chairman Colin Critchlow, and Branch Training Co-ordinator Jane Warner attended the Freemasons' Ball.
Anne explained, saying:
"On behalf of SSAFA Staffordshire, we were presented with the amazing sum of £10,500 from the Staffordshire Freemasons' Province, which was the first in the country to sign up to the Armed Forces Covenant and this is one of the largest grants it has ever made.

"We are incredibly grateful to the Freemasons for this grant, which clearly shows their support for our military community, and will help our branch continue to provide support to serving personnel, veterans, and their families when and how they need it."
For more information, including how to volunteer for SSAFA, to fundraise, or to access its services, visit ssafa.org.uk/staffordshire