Do you know a team or an individual who has gone the extra mile in the RAF Benevolent Fund's centenary year to help the Fund support the RAF Family?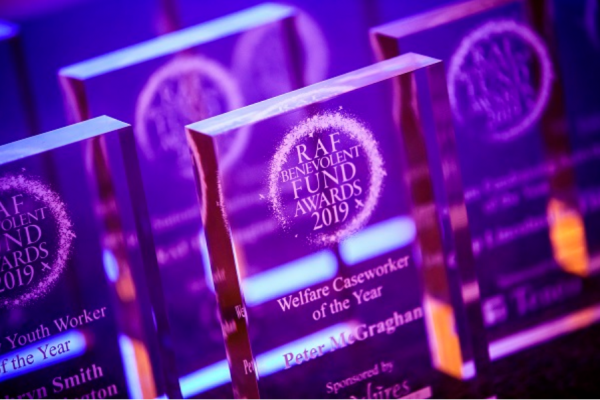 As 2019 begins to draw to a close, the RAF Benevolent Fund is inviting the whole of the RAF Family to reflect back on the year.
This year the Fund celebrated its centenary, launched the Join The Search. Change A Life outreach campaign, and rolled out several new initiatives including a Social Engagement Worker pilot scheme and a Gambling Support Service.
However, none of this would have been possible without the generous backing of our supporters – from the dedicated Airplay Youth Workers and Welfare Caseworkers to its countless generous fundraisers.
If you know someone whose efforts deserve recognition, you can put them forward for an award.
Nominations are open for the six categories below now until 5 January 2020 and the awards are due to take place later in the year.
Above & Beyond
For an extraordinary individual or group who have gone above and beyond to promote our work
Air Training Corps Squadron or University Air Squadron of the Year
For a Squadron which has shown outstanding support for the RAF Benevolent Fund through fundraising or their commitment at our events
Airplay Youth Worker of the Year
For an Airplay Youth Worker who has shown outstanding commitment to improving the wellbeing of RAF children

Fundraising Team of the Year
For a truly dedicated team of volunteers who have all worked tirelessly to fundraise for the RAF Benevolent Fund
For an RAF Station which has provided exceptional support to the RAF Benevolent Fund
Welfare Caseworker of the Year
For a welfare caseworker who has gone the extra mile for our veterans and their families.
Air Vice-Marshal David Murray, Chief Executive at the RAF Benevolent Fund, said:
"The Fund's annual awards ceremony is an opportunity to celebrate all we have achieved and the wonderful supporters who help us do it. From fundraisers, to volunteers to support workers, we wouldn't have the impact we do for the RAF Family without all of your help. I encourage you to put forward anyone you know who has stood out in their work to promote and support the RAF Benevolent Fund."