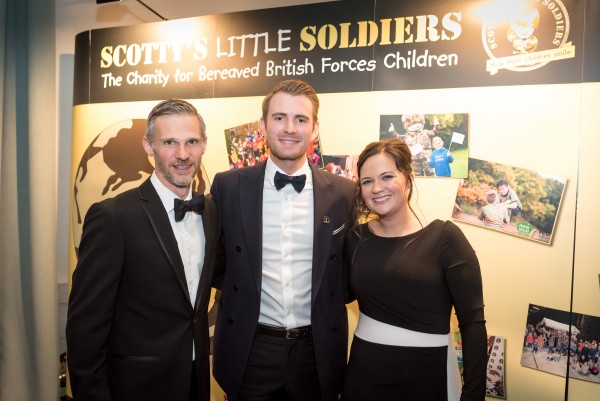 Scotty's Little Soldiers, the charity dedicated to supporting children who have lost a parent while serving in the British Armed Forces, celebrated its 7th annual ball this past weekend raising over £21,000 for its members.
Held on Saturday 28th October at the De Vere Staverton Estate hotel near Daventry, the Scotty's Ball celebrates a coming together of charity supporters along with the year's fundraising activity from the charity and all its affiliates. 282 guests enjoyed a night which included live music, a three-course meal and award ceremony alongside fundraising activity.
Speaking on this year's event, Scotty's founder Nikki Scott said: "We had a fantastic night to celebrate a good year for Scotty's. We use the ball as a way to give back to our fundraisers and partners, which show us so much support throughout the year, by coming together and showing them how much we appreciate them. I'm incredibly proud of what we've done this year and thoroughly enjoyed the night."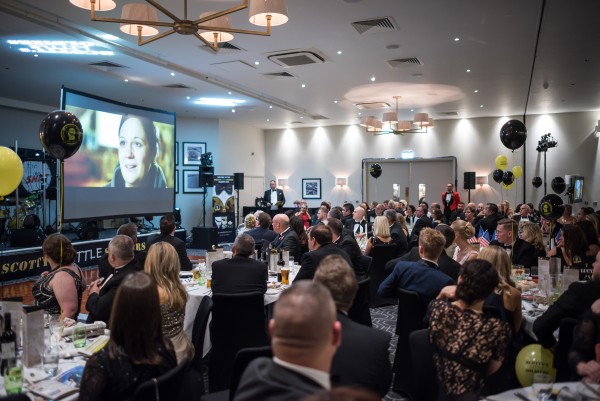 The evening included a number of fundraising activities such as: a silent auction, balloon raffle, and a champagne giveaway as well as a live auction, party games and Scotty's merchandise available to buy with all proceeds going directly to the charity.
Scotty's Little Soldiers ambassador and Britain's Got Talent winner Lance Corporal Richard Jones wowed the crowd with his magic tricks. He said: "It was fantastic to see so much love for the charity in one room – it made me even more proud to be an ambassador. Attendees were a great, and very vocal crowd, fully willing to get involved in the magical part of the night."
Scotty's continues to reach more and more bereaved families across the UK every year. In 2017 alone, the charity has welcomed 72 new members.
A special presentation was also made on the night to Scotty's Business Heroes, a new venture aimed at companies of all sizes. Scotty's Business Heroes gives businesses the opportunity to support the charity through a number of means and allows them to become part of an exclusive club in which they'll be able to take part in networking, events, fundraising challenges, social media activity and work closely with the charity.
Alongside this, Scotty's handed out awards to the following for their support in 2017:
Fundraiser of the Year – Tanya Porter
Corporate Partner of the Year Award – Calteq
Young Fundraiser of the Year – Molly Sharman
Charity Champion – Rachel Murphy
Scotty's Best Friend – Cheryl Powley
Fundraising Group – Run the Ring 2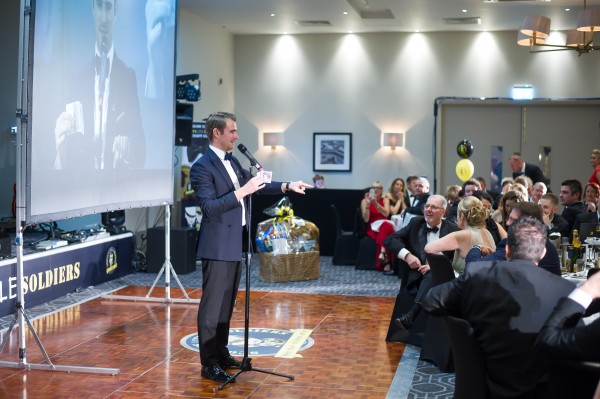 Scotty's mum, Rachel Murphy, was recognised for her continuous support of the charity on the night. Rachel lost her husband Lance Corporal John Murphy in 2007 and her children, 14-year-old Steven and 12-year-old Emily, have been part of Scotty's Little Soldiers since 2011.
She said: "It means so much to me to receive this award. Scotty's Little Soldiers has helped me and my children enormously and it has been important for them to meet other children who understand what they have gone through. Scotty's has done so much over the years and we as a family are delighted to be giving back this year."
All donations raised on the night will go towards improving the lives of children who have lost a parent whilst serving in the British Armed Forces and helping them to smile again.
To find out more information or to get involved in raising money for Scotty's you can visit http://www.scottyslittlesoldiers.co.uk/pages/14/get-involved
-Ends-
Notes to editors
To speak to a member of the Scotty's Little Soldiers team, please contact Scotty's national PR agency: Claire Grew (claire@wolfstarconsultancy.com) or Chris Grayson (chrisg@wolfstarconsultancy.com) 0113 273 7816
About Scotty's Little Soldiers
Scotty's Little Soldiers, founded in 2010, honours Corporal Lee Scott's memory – both as a loyal soldier and a loving father – and provides a practical yet personal way for the public at large to show their appreciation for those brave individuals who make the ultimate sacrifice in the service of their country. Currently Scotty's Little Soldiers supports 331 bereaved children and runs a variety of programmes to help children smile again and look forward to a brighter future. You can visit the charity online at http://www.scottyslittlesoldiers.co.uk/