A staggering £25,303 was raised at Royal Ascot's Armed Forces Day for the three leading Armed Forces charities, the Royal Navy and Royal Marines Charity, ABF The Soldiers' Charity and the Royal Air Force Benevolent Fund.
The Trustees of Ascot Racecourse Limited will also supplement the total fundraising figure with an additional donation.
Over the last five years more than £135,000 has been raised at Royal Ascot, including donations from racegoers and corporate support from Ascot Racecourse.
Brigadier (Ret'd) Peter Walker OBE, Berkshire County Chairman ABF The Soldiers' Charity, said on behalf of the three charities: "We are so grateful to the Trustees of Ascot Racecourse and all the racegoers who have been so generous and welcoming this year. The day is always a highlight in our calendars and it is so lovely to see the public engage with servicemen and women.
"Our charities help the entire military family, from our oldest Second World War Veterans to those currently serving at home and abroad, and we simply couldn't do that without the overwhelming support from the public, as we saw once again from Royal Ascot visitors.
"This year we have celebrated and commemorated several big anniversaries, including the centenary of the end of the First World War, 75 years since the famous Dambusters raid and of course the Royal Air Force's 100th birthday and so it feels even more special."
Ashley Morton-Hunte, Corporate & Racing Communications Manager at Ascot, said: "We are delighted to be able to give something back to these three fantastic Armed Forces charities who do so much positive work for those in need. Year on year it is wonderful to see racegoers give so generously to the charities and we look forward to welcoming military personnel next year."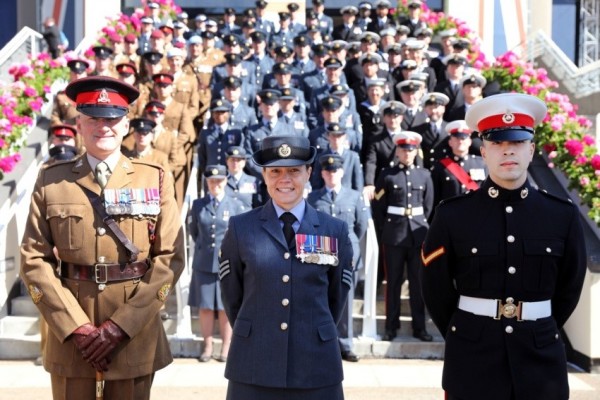 For high resolution photos, please visit: http://bit.ly/armedforcesday2018
For more information please contact:
Brooke Harrison-Davies, Communications Executive at RAF Benevolent Fund
E: brooke.harrison-davies@rafbf.org.uk | T: 020 7307 3351 | M: 07825 172447
RAF Benevolent Fund: The Royal Air Force Benevolent Fund is the RAF's leading welfare charity. We exist to support current and former members of the RAF, their partners and dependants, whenever they need us. In 2017 we spent £18.8m supporting more than 55,000 members of the RAF Family. For more information visit:  www.rafbf.org Twitter: https://twitter.com/RAFBF
The Royal Navy and Royal Marines Charity has been the principal charity of the Royal Navy for over ten years.  From life changing grants during times of immediate need, to smaller deployment grants that aid morale and retention, the RNRMC has helped over 750,000 serving personnel, families and veterans to receive the support they need.
For more information on the Royal Navy and Royal Marines Charity, call 023 9387 15020 or visit www.rnrmc.org.uk
ABF The Soldiers' Charity is the British Army's national charity. Since being founded in 1944, we have been supporting soldiers, veterans and their families in times of need. Last year, we spent some £3.2 million providing financial assistance to more than 4,000 individuals. In addition, we dispersed just over £4 million in grants to 85 partner charities and delivery organisations, which provided specialist support on our behalf. In total, our work touched the lives of around 70,000 people across 62 countries worldwide. 'For Soldiers – For Life' is not just a strapline; it is our commitment. For more information:
Visit: www.soldierscharity.org
Like us on Facebook: www.facebook.com/soldierscharity
Follow us on Twitter: www.twitter.com/soldierscharity