To mark the centenary of the end of the First World War a resident of the small village of Littleover, Derbyshire, has created 37 bears to be auctioned in memory of the 37 soldiers the village lost in that conflict.
The bears were lovingly crocheted by blind resident Sally Edworthy and will be the stars of the show at the village's gala dinner this Saturday (15/09) to mark the Armistice. Proceeds from the auction will go to Blind Veterans UK, the national charity for vision-impaired ex-Service men and women.
Sally says: "It was a common occurrence in that period that wives and girlfriends would give teddy bears to their loved ones going off to war, as something to remember them by.
"I thought it would be fitting for each of the 37 soldiers of Littleover to have a bear created especially for them. Each one has a tag with that soldier's name on and is unique in colour, size, style and personality; just like human beings, and no two are identical."
Blind Veterans UK is a cause close to Sally's heart as she is vision-impaired herself, having lost her sight as a result of glaucoma, an inherited condition which also affected her father and grandmother.
Sally, who says she does not need her vision to crochet, admits it was her father's negative experience of sight loss that made her determined to support the charity.
She recalls: "He never went out by himself and was completely dependent on my mother. He became a really angry person and I remember him just sitting in his chair; it was as if he had lost the will to live.
"Having seen my father go through that, I was determined to handle my sight loss in a different way. I am a huge advocate for charities like Blind Veterans UK, who help people to rebuild their confidence after sight loss."
Blind Veterans UK, formerly known as St Dunstan's, was founded in 1915 as a response to the soldiers and sailors who returned from the First World War blinded. They were given the training and support to rebuild their lives following their sight loss.
The values of the organisation remain unchanged and the charity has gone on to support more than 35,000 blind veterans and their families, spanning the Second World War to recent conflicts including Iraq and Afghanistan.
If you would like to give a home to one of the 37 bears, they are available, in exchange for a donation to Blind Veterans UK, at the 'Littleover 100' Gala Day on Saturday, 15 September. The event runs from 11am to 3pm on the Glebe Land next to the Church Halls on Shepherd Street, Littleover, DE23 6GA.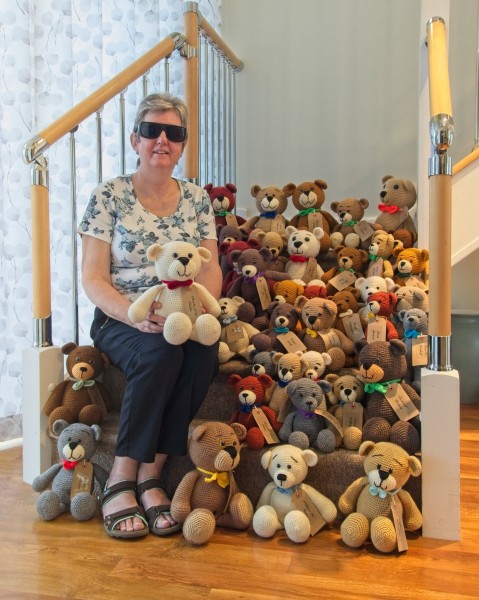 For all media enquiries please contact:
Ruth Moore
PR and Communications Executive
Blind Veterans UK
12 – 14 Harcourt Street
London
W1H 4HD
E: ruth.moore@blindveterans.org.uk
T: 020 7616 7955
M: 07710 859149
Notes to Editor:
Blind Veterans UK
Blind Veterans UK is a national charity that believes that no-one who has served our country should have to battle blindness alone. Founded in 1915, the charity provides blind and vision impaired ex-Service men and women with lifelong support including welfare support, rehabilitation, training, residential and respite care.
Find out more at: blindveterans.org.uk, follow us on Facebook at: facebook.com/blindveteransuk and on Twitter at: twitter.com/blindveterans.