A total of 60 soldiers from The Highlanders, 4th Battalion, The Royal Regiment of Scotland (4SCOTS), descended on the city of Perth at the weekend with one aim – to tackle the fierce Spartan Race and raise money for children's Armed Forces charity Scotty's Little Soldiers.
Led by Andrew McLellan, the 4SCOTS stood out from the crowd, kitted head to toe in military gear.
And they were certainly put through their paces, being made to wade through sludgy bogs, scale slippery six-foot ramps, crawl under barbed wire and cargo nets and jump through fire.
The team set themselves an ambitious target to raise £8,000 for Scotty's, a national charity which offers much needed support to children who have lost a parent while serving in the British Armed Forces.
Founded by war widow Nikki Scott in 2010, Scotty's Little Soldiers supports children across the UK. The charity was set up in memory of Nikki's husband and father to her two children, Corporal Lee Scott, after he was killed in Afghanistan in 2009. The charity was also chosen by Prince Harry and Meghan Markle as one of seven charities to benefit from the Royal Wedding earlier this year.
For many of the regiment members, the charity holds a special place in their hearts. Many have lost fellow comrades over the years and witnessed the devastating impact it has on the family, particularly the children they leave behind.
Corporal William Savage from the 2nd Battalion, The Royal Regiment of Scotland (2SCOTS), was one fallen hero firmly at the front of their minds over the weekend.
Corporal Savage was killed in Afghanistan in April 2013, leaving behind his wife Lynzy and son Connor who he never got to meet.
Connor joined Scotty's Little Soldiers in September 2013 when he was just a few months old, after his dad was killed a few weeks before he was born.
Although he never got to meet his dad, Connor, now 5 years old, is keen to celebrate his memory and was there with his mum in Perth to cheer on his dad's fellow comrades at this weekend's Spartan.
Lynzy said: "The guys did so well, it really was a challenging race, but they did it and they did it for Scotty's! Andrew has done a fantastic job in championing the 4SCOTS involvement and it's been great for Connor to experience it, he even got to help warm up the troops before they started. Next year, I've decided I'm going to sign up myself."
Adding extra cheer over the weekend was Scotty's founder Nikki Scott, she said: "I have a huge amount of respect for the 4SCOTS and everyone who took part in the Spartan Race, it's certainly not for the faint hearted, I suppose that's why they call it the Beast.
"The fact that so many members of the regiment took part all in aid of Scotty's is fantastic. I know the military guys like a good challenge, Lee certainly did.
"I can't thank Andrew and the guys enough for the money they've already raised. It will go along way in helping us continue to deliver the support to our members when they need it the most."
For more information on the 4SCOTS fundraising efforts or to donate visit https://everydayhero.co.uk/event/4scots
If you're interested in taking on a Spartan Race for Scotty's Little Soldiers or another fundraising challenge you can find out more at the charity's dedicated challenge website http://scottychallenges.co.uk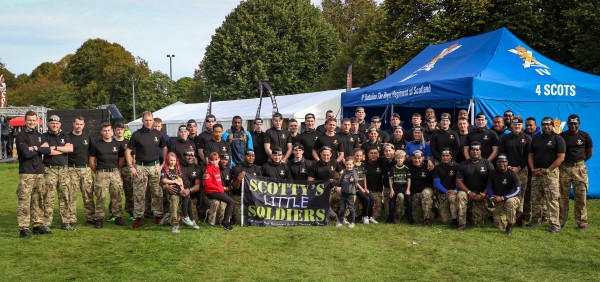 Notes to editors
To speak to a member of the Scotty's Little Soldiers team, please contact Scotty's national PR agency:
Claire Lomax (claire@wolfstarconsultancy.com), Chris Grayson (chrisg@wolfstarconsultancy.com), Fran Wyatt (fran@wolfstarconsultancy.com) or 0113 273 7816.
About Scotty's Little Soldiers
Scotty's Little Soldiers, founded in 2010, honours Corporal Lee Scott's memory – both as a loyal soldier and a loving father – and provides a practical yet personal way for the public at large to show their appreciation for those brave individuals who make the ultimate sacrifice in the service of their country. Currently Scotty's Little Soldiers supports 345 bereaved children and runs a variety of programmes to help children smile again and look forward to a brighter future. You can visit the charity online at http://www.scottyslittlesoldiers.co.uk/