Yesterday 86-year-old Bingley veteran Jeffrey Long completed his 100-mile walk in tribute to 100 years of the Royal Air Force, supporting the RAF Benevolent Fund and Support Our Paras.
11 years ago, Jeffrey began his fundraising endeavours and has taken on challenges up and down the country in a bid to support military charities close to his heart. He has completed Liverpool to Leeds, Hadrian's Wall and the Three Peaks Challenge, to name but a few.
This year's challenge saw him visit 10 RAF Stations on 10 consecutive days, walking 10 miles each day in a tribute to the service's 100th birthday. Personnel from RAF Odiham, including the Station Commander, Group Captain Lee Turner joined Jeffrey along the route to show support and boost morale.
Jeffrey, who served in the Army from 1950 to 1957 before leaving due to injury, admits age had forced him to slow down in recent years, and he's not carrying the heavy packs he once did, but he remains as determined as ever to raise funds and awareness for the charities he loves.
When asked how he felt after completing his challenge, Jeffrey said: "I feel fine, absolutely fine! I'm ready to get going on my next big walk now but I have a little time until that starts in November. I am truly touched that so many came out to support me this year. I had so much support along the way and so many friendly faces joined me on the walks, which was great!"
Jeffrey, who raised more than £120K last year, said: "The Paras have a relationship with the RAF, they are very good to us. They give us a flight then they show us the door! It made perfect sense to me to support this wonderful charity, in the year of the RAF's centenary as well as the Paras' charity, of course."
Last year Jeffrey's 86-mile walk in recognition of his birthday, went viral thanks to comedian Jason Manford who retweeted his appeal. He also received a lifetime membership from the Royal British Legion, who was the main beneficiary. The Prime Minister Theresa May MP also recognised Jeffery's incredible efforts with a Points of Light Award, congratulating him on his 'long-serving support of Armed Forces charities'.
This year, Just Giving have shortlisted Jeffrey for the Endurance Fundraiser of the Year Award, voted for by the public. To vote go to: www.justgiving.com/awards/2018/vote
Aaron Tillyer, regional fundraiser for the RAF Benevolent Fund, said: "We cannot thank Jeffrey enough for choosing to support us in his recent challenge. I've had the pleasure of walking with Jeffrey every day and we have not stopped laughing. His enthusiasm and zest for life is infectious. We could certainly all learn a thing or two from him.
"Supporters like Jeffrey are vital to see the welfare work the Fund carries out continue, without it we simply could not do what we do – ensuring no member of the RAF Family faces adversity alone. It has been such an honour getting to know him and from everyone at the RAF Benevolent Fund, a heartfelt thank you Jeffrey!"
To support Jeffrey's walk, go to https://uk.virginmoneygiving.com/JeffreyLongMBE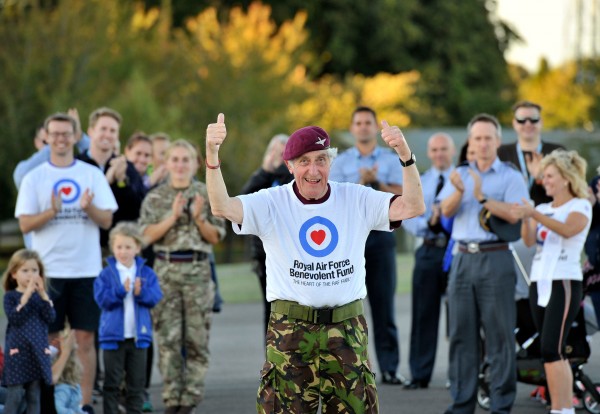 For more information and high res images please contact:
Brooke Harrison-Davies, Communications Executive RAF Benevolent Fund
E: brooke.harrison-davies@rafbf.org.uk | T: 020 7307 3351 | M: 07825172447
RAF Benevolent Fund:
The Royal Air Force Benevolent Fund is the RAF's leading welfare charity. We exist to support current and former members of the RAF, their partners and dependants, whenever they need us. In 2017 we spent £18.8m supporting more than 55,000 members of the RAF Family. For more information visit:  www.rafbf.org Twitter: https://twitter.com/RAFBF
Support our Paras:
Support our Paras is a charity which supports The Parachute Regiment through the welfare of serving soldiers and families and those affected by recent operations, and through the maintenance of its regimental efficiency, ethos, spirit and heritage. For more information visit: www.supportourparas.org Twitter: https://twitter.com/supportourparas