This news comes following the incredibly successful 2018 Battle Proms event held at Highclere Castle. The Earl and Countess of Carnarvon invited SSAFA to participate in 'Heroes at Highclere' to honour the fallen of the First World War.
During the planning stages of the event, Lawrence (Ash) Ashbridge, a volunteer at the SSAFA Hampshire branch found in its archive, that the 5th Earl of Carnarvon was a Life Member of SSAFA Hampshire.
The 5th Earl's association to SSAFA also came as a wonderful surprise to Lord and Lady Carnarvon and further embellished his already well-known philanthropic service.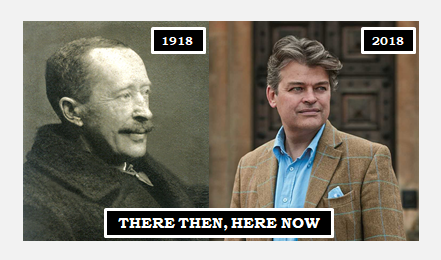 Further discussions with Lady Carnarvon revealed that when all the men working on the Highclere Estate went to fight in the war, the 5th Earl continued to support their families financially.  This would have helped their morale immeasurably knowing their loved ones were being cared for whist they fought at the front.
Speaking of the recent announcement, Patricia Lyons, Chairman, SSAFA Hampshire, said:
"We are extremely honoured to have the Earl of Carnarvon come on board as an Honorary Vice President of SSAFA Hampshire branch. 
"It is wonderful to be building on the history of the Carnarvon family supporting SSAFA – and this is an exciting new chapter we are entering."
In accepting his new honorary appointment, Lord Carnarvon, said:
"I am delighted to be carrying on my family's legacy of supporting SSAFA, the Armed Forces charity.  I look forward to working more closely with the team in the coming months."
SSAFA, the Armed Forces charity, welcomes Lord Carnarvon to SSAFA and the poignant family connection that has been re-established resonates so much with the SSAFA First World War theme for the centenary year: There then, here now.
Notes to editors
About SSAFA:
SSAFA, the Armed Forces charity, has been providing lifelong support to our Forces and their families since 1885. Last year our staff and team of volunteers help more than 73,000 people, from Second World War veterans to young men and women who have served in more recent conflicts.
For more information visit www.ssafa.org.uk. Find SSAFA on Twitter (@SSAFA), Facebook (@SSAFAOfficial) and Instagram (@ssafa_armedforcescharity)
About the 8th Earl of Carnarvon:
George Carnarvon is the 8th Earl of Carnarvon and lives at Highclere Castle with his family. Highclere Castle is a country house in the Jacobethan style by the architect Charles Barry, with a park designed by Capability Brown. The 5,000-acre estate is in Hampshire, England, about 5 miles south of Newbury, Berkshire. The Highclere Estate farms just over 2,000 acres in Hampshire and has a large flock of pedigree Lleyn sheep. Crops include oats for horse (and human) consumption, milling and feed wheat, barley, haylage, linseed and oil seed rape. Highclere Castle is recognised worldwide as the venue for the award-winning TV series Downton Abbey.
For more information visit www.highclerecastle.co.uk or find us on Twitter (@HighclereCastle), Facebook @HighclereCastle and Instagram (@highclere_castle)