Led by none other than Michael Wilson, the Queen's Guide to the Sands, the Cross Bay Walk across Morecambe Bay takes place on June 11 – and SSAFA, the Armed Forces charity is looking for people to help raise funds to continue its work in north-west England.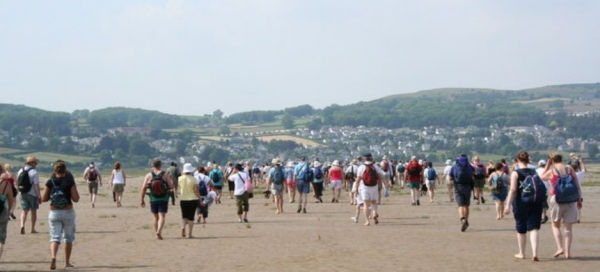 Mother Nature makes sure that the event is never the same two years running. The tides across the beautiful bay mean safely navigable paths change almost constantly, and that is why Michael's expert knowledge is so vital to make the seven-to-eight-mile walk, taking up to four hours, a pleasure.
The eagle-eyed may spot varied species of bird and mammal en route, from oystercatchers and redshanks, to curlews, dunlins, black-tailed godwits, and lots of knots. Otters and seals, too, frequent the bay, and walkers might also espy the occasional red deer on the shore. Participants' well-behaved canine companions are welcome on the walk.
Fundraisers must pre-register for the walk (details below), and muster at 2pm at Arnside Promenade, with the walk beginning at 3pm.
Registration fees are:
£15 per adult
£10 per young person (11-16 years)
£5 per child (under 11 years).
All participants receive a free SSAFA T-shirt, and a minimum target of £50 per person is requested to allow SSAFA in the north west to continue its work for veterans, serving personnel, and their families as it has done for 137 years. Participants are asked that you aim to raise a minimum of £50 per participant to help us support our Armed Forces community.
For more information, including details on how to register for this unique event, visit ssafa.org.uk/crossbaywalk.