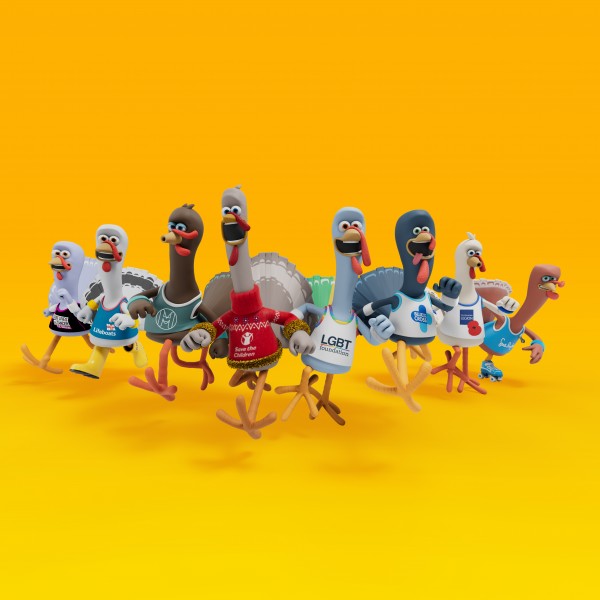 Eight charities feature in an innovative digital race that encourages people to donate more to good causes this Christmas
PayPal has joined forces with Aardman and Channel 4 for a unique Christmas campaign that will boost donations to eight of the UK's most loved charities. Turkey Dash will see an elite field of CGI turkeys – one representing each charity – undergo vigorous training powered by online donations from the charities' supporters, climaxing in a prime time race broadcast on Channel 4 on Friday 15th December.
Turkey Dash starts on 28th November to mark Giving Tuesday – a global event that has been dubbed the antidote to Black Friday, and encourages people to do a good deed for charity. The campaign will run nationwide across broadcast, online and social media for two weeks, during which the British public will be asked to get behind a good cause by making a donation online to one of the eight turkeys. Each donation will in turn help the chosen turkey in their training regime before the big race.
Today, the first designs of the athletic turkeys have been revealed following months of painstaking design at Aardman's studio in Bristol. Each turkey sports a team strip inspired by its charity.
Alison Sagar, Chief Marketing Officer and Head of Consumer at PayPal UK, explains: "With Turkey Dash, we wanted to show the power of online payments to do good. Last Christmas, more than a million people in the UK made a donation to their favourite cause with PayPal. This year, we want to encourage even more donations! We're always looking for new and innovative ways to inspire our customers and show them the breadth of what PayPal has to offer. We think we've got something really special this year thanks to the combined efforts of eight incredible charities, Aardman and Channel 4."
All donations will be processed through PayPal Giving Fund UK, a registered not-for-profit organisation that uses technology to help charities find new supporters and raise funds in a safe and secure way. PayPal Giving Fund UK does not charge charities any fees for enrolling or receiving donations, ensuring they receive all funds including Gift Aid.
Aardman director Darren Dubicki comments: "Who doesn't love the idea of animated turkeys? With Turkey Dash, we're playing to the great British sense of humour we all share, while encouraging people to dig deep for a good cause. We'll be working on the animation right up until race day, which will be a little nerve wracking!"
Angus Mitchell, Agency Principal, Channel 4 said: "We're really proud of this latest collaboration with PayPal and that they've chosen Channel 4 as the exclusive broadcast partner. Aardman's fantastic creative will engage Channel 4 viewers in this innovative campaign for a great cause across a key time of year."
The eight charities participating in the Turkey Dash are:
For more information on Turkey Dash visit www.turkeydash.co.uk
Campaign credits:
Animation: Aardman
Creative agency: CP+B London
Partnership: Channel 4
Media agency: Havas
Campaign hashtag: #TurkeyDash
–ENDS-
All media enquiries: PayPalPressOffice@edelman.com.
About PayPal
Fueled by a fundamental belief that having access to financial services creates opportunity, PayPal (NASDAQ: PYPL) is committed to democratising financial services and empowering people and businesses to join and thrive in the global economy. Our open digital payments platform gives PayPal's 218 million active account holders the confidence to connect and transact in new and powerful ways, whether they are online, on a mobile device, in an app, or in person. Through a combination of technological innovation and strategic partnerships, PayPal creates better ways to manage and move money, and offers choice and flexibility when sending payments, paying or getting paid. Available in more than 200 markets around the world, the PayPal platform, including Braintree, Venmo and Xoom, enables consumers and merchants to receive money in more than 100 currencies, withdraw funds in 56 currencies and hold balances in their PayPal accounts in 25 currencies. For more information on PayPal, visit https://www.paypal.com/about. For PayPal financial information, visit https://investor.paypal-corp.com.