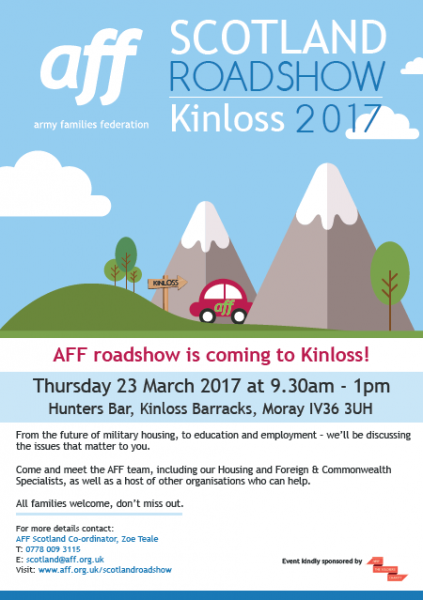 The Army Families Federation (AFF) has announced the location of their latest families' roadshow as Kinloss in Scotland.
They're encouraging families posted to Scotland to come along to the event on 23 March, 9.30am to 1pm, at The Hunters Bar in Kinloss Barracks, Moray, IV36 3UH.
Meet your local AFF team
The event will focus on local issues surrounding education, employment, housing, health and more. Families will be able to meet the AFF team, including AFF's Housing, Education and Foreign & Commonwealth Specialists, and AFF Scotland Co-ordinator Zoe Teale.
Zoe said: "We want to hear about life for families living in Scotland, whether in a city or an isolated location. I'll be there to meet with families, as well as other key figures we feel can help families to overcome the challenges they may be facing."
Here to help
Chain of command and other organisations will be attending to offer their support to families and help with any queries raised.
Families are encouraged to share their experiences prior to the event, by emailing their questions to scotland@aff.org.uk; AFF will do their best to make sure questions are answered on the day or as soon as possible after the roadshow. There will also be an opportunity to take part in or simply listen to AFF's formal Q&A session and meet representatives from a number of external agencies and organisations.
Get involved
To find out more about AFF's work in Scotland, or to submit a question to their expert panel to pose on your behalf, contact AFF's Scotland Co-ordinator Zoe Teale at scotland@aff.org.uk
ENDS
Notes to Editor:
The Army Families Federation (AFF) is the independent voice of Army families: Regular or Reserve, wherever they are based, whatever the make-up of their family.
Throughout the UK and overseas, AFF works hard to achieve policy change and progress in favour of Army families; they offer advice and guidance on all aspects of Army life, confidentially and in an easy-to-digest way.
They work with other agencies such as MOD, government, charities and other key players to strengthen their cause and fight for a fair deal for families everywhere.
Their family-focussed website (aff.org.uk) contains information about all aspects of Army family life, and their Facebook, Twitter and Instagram pages offer families another easy way to contact us, interact or simply follow the work we are doing.
AFF operates by four core values, which are pivotal to our work. These are:

AFF always puts families first
AFF can be trusted
AFF is bold and determined
AFF is inclusive
Media Contact:
For more information about AFF's work in Scotland, contact Sarah Bowie, AFF Comms & Marketing Director, at commsmarketingdirector@aff.org.uk