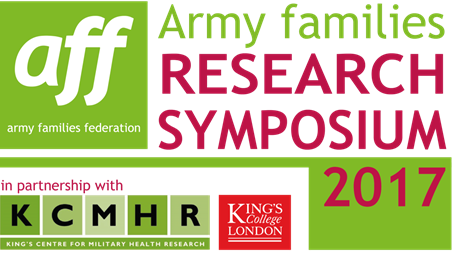 Following the success of their first symposium in 2015, The Army Families Federation (AFF) will once again host a Research Symposium to discuss the issues Army families face and share findings and research with others also working in this field of work.
This event will take place on Monday 5 June at the Guy's Campus, King's College London.
Working in partnership
In partnership with the King's Centre for Military Health Research, the event will bring together those undertaking research across the many fields of study concerning Army families.
A crucial element will be the collaboration between academics and subject matter experts from AFF and the MOD, possibly leading to further research being undertaken to help better understand and support Army families.
AFF Policy & Research Director Louise Simpson said: "Our first Research Symposium two years ago was an influential event for those involved and helped to enhance AFF' s reputation. This time, working in collaboration, we hope to create a culture of support and discussion, which we hope will lead to some excellent research that will ultimately help to improve the lives of Army families everywhere."
The keynote speaker at the symposium will be Dr Rachael Gribble from the King's Centre for Military Health Research, who will present the findings of her recent PhD on the support and health of military personnel and their families.
There will also be speakers from the Army, MOD and AFF, outlining the key challenges to Army family life in 2017.
Participation encouraged
A great opportunity for academics and those undertaking research, the charity is keen to encourage involvement from attendees. There will be an opportunity to participate in discussion sessions during the day, and for academics to bid to chair these discussions and present their research.
Discussions will be based on a range of themes relevant to Army families, including military children, spousal employment, mental wellbeing, social networks and transition.
Find out more
Registration for the this event will open soon, please look out for details on the AFF website  www.aff.org.uk/affresearchsymposium
For more information about leading a discussion session or participating in the poster competition, please contact Michelle Alston, AFF Researcher, at researcher@aff.org.uk
ENDS
Notes to Editor:
The Army Families Federation (AFF) is the independent voice of Army families: Regular or Reserve, wherever they are based, whatever the make-up of their family.
Throughout the UK and overseas, AFF works hard to achieve policy change and progress in favour of Army families; they offer advice and guidance on all aspects of Army life, confidentially and in an easy-to-digest way.
They work with other agencies such as MOD, government, charities and other key players to strengthen their cause and fight for a fair deal for families everywhere.
Their family-focussed website (aff.org.uk) contains information about all aspects of Army family life, and their Facebook, Twitter and Instagram pages offer families another easy way to contact us, interact or simply follow the work we are doing.
AFF operates by four core values, which are pivotal to our work. These are:

AFF always puts families first
AFF can be trusted
AFF is bold and determined
AFF is inclusive
Media Contact:
For more information about AFF's work in support of spouse employment and training, contact Sarah Bowie, AFF Comms & Marketing Director, at commsmarketingdirector@aff.org.uk