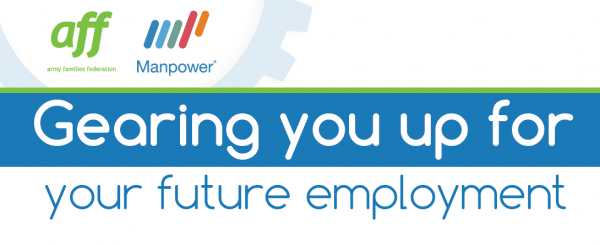 The Army Families Federation (AFF) is proud to announce its latest initiative in support of spousal employment, in partnership with workforce experts Manpower.
The military charity is bringing Army families accessible employability advice and support at a local level with the help of Manpower. Sessions will take place every other Thursday at the Beeches Centre in Bulford, Salisbury, from the 9 February, and will be held during the regular coffee mornings at the centre, which will continue as normal. AFF is keen to make these sessions as inclusive and family friendly as they can and are encouraging those attending to bring their children with them.
Sessions will feature a useful range of CV support, guidance on approaching the job market, career profiling and interview techniques, as well as access to live jobs.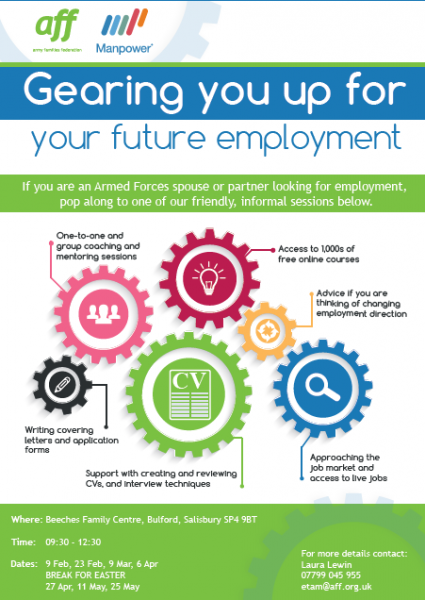 Tackling employment barriers
AFF's Employment, Training, Money and Allowances Specialist Laura Lewin explains: "These new sessions offer a one-stop-shop for Army spouses and partners in the Salisbury Plain area who wish to give their career a boost. For some, knowing where to access the right support can be a barrier, but by teaming up with Manpower, we hope to overcome this issue by offering a variety of FREE sessions all in one place. I encourage any spouses or partners looking to move forward with their career to come along and see what it's all about."
Families recently told AFF about the difficulties they face when seeking rewarding employment appropriate to their skillset and experience. Aspects of Army life such as mobility and separation often exacerbate this.
Empowering spouses and partners
AFF hopes these events will empower spouses and partners to be more pro-active in their approach to employment and training, providing them with the skills and confidence they need to access the employment they want.
Consultants, Manpower trainers and AFF staff will all be on hand to offer a 'career kick-start' and AFF is hoping that, if successful, this campaign can be rolled out to other areas in the future. The launch event takes place on Thursday 9 February; all are welcome, whatever stage you're at in your career.
Rhys O'Leary, Consultant at Manpower said: "Entering the workforce again or for the first time can be daunting. We're really pleased to be able to use our years of experience to support spouses and family members. We know people will have different questions and concerns and that's why we're going to be offering support, coaching and practical advice as well as discussing live job opportunities. My colleagues and I are looking forward to meeting everyone."
Find out more
To find out more about the employment and training support AFF can offer you, email etam@aff.org.uk or to find out more about the Manpower sessions, visit http://www.aff.org.uk/latest_news_information/index.htm#employabilitysessions
ENDS
Notes to Editor:
The Army Families Federation (AFF) is the independent voice of Army families: Regular or Reserve, wherever they are based, whatever the make-up of their family.
Throughout the UK and overseas, AFF works hard to achieve policy change and progress in favour of Army families; they offer advice and guidance on all aspects of Army life, confidentially and in an easy-to-digest way.
They work with other agencies such as MOD, government, charities and other key players to strengthen their cause and fight for a fair deal for families everywhere.
Their family-focussed website (aff.org.uk) contains information about all aspects of Army family life, and their Facebook, Twitter and Instagram pages offer families another easy way to contact us, interact or simply follow the work we are doing.
AFF operates by four core values, which are pivotal to our work. These are:

AFF always puts families first
AFF can be trusted
AFF is bold and determined
AFF is inclusive

For more about Manpower, visit manpower.co.uk
Media Contact:
For more information about AFF's work in support of spouse employment and training, contact Sarah Bowie, AFF Comms & Marketing Director, at commsmarketingdirector@aff.org.uk