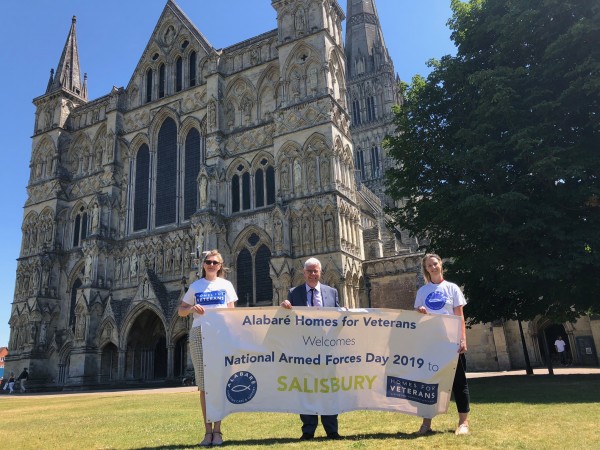 Alabaré Homes for Veterans are delighted to welcome National Armed Forces Day 2019 to Salisbury!
This fantastic event will shine a national light on the tremendous work of our awe-inspiring UK Armed Forces, and our heroic Veterans community, all against the backdrop of our beautiful city.
As the home of UK Land Forces for nearly half a century and with close ties to military bases all around the area, Salisbury is a fitting location to showcase our Nation's Armed Forces.
Salisbury-born charity, Alabaré, is a member of Cobseo, The Confederation of Service Charities and through its Homes for Veterans has been providing specialist support for vulnerable and homeless Veterans for nearly 10 years. It has grown to become the largest provider of supported housing for Veterans of working age outside London, and has 3 of its 27 homes in Salisbury.
Andrew Lord, Alabaré Chief Executive said;
"National Armed Forces Day 2019 will be a held with great pride in Salisbury.  It will be a fantastic occasion, in a historic and resilient military city."
"At Alabaré we are glad to be able to support our Armed Forces Veterans in their time of need, and help them back to new stronger, healthy and resilient lives.   We work closely SSAFA, The RBL, ABF – The Soldiers Charity, and many other military organisations to help Veterans who are struggling, out of crisis and into support as quickly as possible."
"Our experienced Homes for Veterans team provide residents with help to access to healthcare services, tenancy training, and give them the emotional support they need to move forward in their lives once more. Our residents tell us they really value being in homes surrounded by other Veterans who understand what they have been through – there is a huge sense of camaraderie which is so valuable."
"The timing of this national celebration visiting Salisbury couldn't be better, as 2019 will see the opening of Wilton Hill Veterans' Village – the first purpose built Veterans community in the UK.  We have been working closely with developers and fellow charity Our Wilton, to ensure that Veterans have the very best opportunities and support to thrive in civvy street. "
The Our Wilton Veterans' Development at Wilton is due to open in early 2019 and will provide affordable high quality serviced apartments for veterans who want to save for a deposit, kick start a new career and be a part of a new enterprise culture that the scheme is designed to encourage.
Within the Our Wilton Veterans' Development, Alabaré Homes for Veterans will operating 12 supported units for more vulnerable veterans or those at risk of homelessness, giving them greater access to mainstream opportunities and support from the community.
-Ends-
For more information or to arrange an interview call Andrew Lord on 07900 216393  a.lord@alabare.co.uk
Notes
At Alabaré we support people to overcome the barriers of homelessness, mental ill-health and learning disabilities in-order to have a home, health, choice and independence.
Alabaré Christian Care and Support provide the highest standards of accommodation and support to disadvantaged and vulnerable people in our communities in order that they can have a home, health, choice and independence. Since 1991, Alabaré have been working with people facing disadvantage through homelessness, mental ill-health, learning disability or a combination of these.  We provide housing and personalised support based on the individual needs and aspirations of each person, tackling underlying causes and giving them the skills and confidence to move forward with their lives.