On Saturday 24 June, to celebrate Armed Forces Day and to recognise the hard work and dedication of all three Services, SSAFA, the Armed Forces charity, ran its annual 13 Bridges Challenge. Participants walked a 10 mile route over 13 of London's most iconic bridges.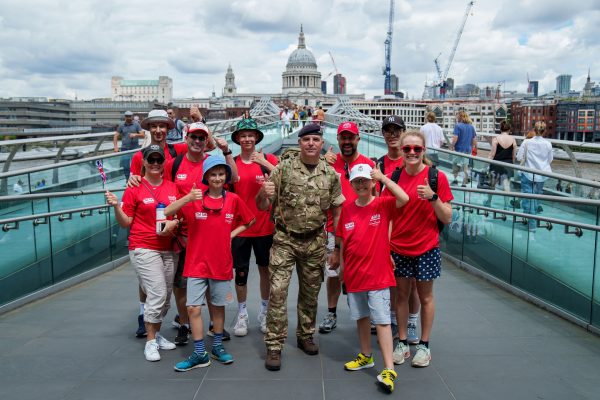 The event, which started at Tower Hill and finished at Eel Brook Common, on one of the hottest days of the year so far, saw a total of 680 walkers, who, together raised more than £83,000 for the charity.
Verity Harding, SSAFA's Head of Events said:
"This year's 13 Bridges Challenge has been a resounding success. Despite the heat, raising a phenomenal amount of money. We are so grateful to everyone who came out to support SSAFA on Armed Forces Day. Seeing everyone cross the finish line with smiles on their faces was a real highlight. Thank you to all the participants, volunteers and sponsors who took part and helped make the event such a success."
Participants thought of ingenious ways to raise extra funds for the charity beyond the £10 joining fee. One veteran was sponsored to do 100 crunches on each of the 13 bridges and another had to drink a bottle of beer for each bridge. Lots of families and their pets enjoyed the walk too, and, at the finish line, there was a carnival atmosphere, with stands and military related attractions for the public to enjoy. Reserve Troops from all over London came to support the event, providing group leaders and talking to the public about their roles.
The event was sponsored by Corps Security, Morgan Sindall and ECON, all of which helped the day to run smoothly by giving practical support, and also entered walking teams to complete the challenge.
Team Corps Security said:
"It was lovely to see so much of London. We have had a brilliant time; it's been so hot, but we are soldiering on for our Armed Forces!"
Chris Lewis and his dog, Jet, who appeared with Ben Fogle on New Lives in the Wild, on Channel 5, and who is walking the whole of the coastline of Great Britain to raise money for the charity, made a guest appearance at the finish line. He was greeting fans and signing his new book, Finding Hildasay, a brutal and beautiful true story of depression, survival, and the meaning of home. The signed books will also be available in the SSAFA online shop soon.
Other famous fundraisers who joined in the fun were Paul Jacobs, Rifles veteran, who was blinded in an explosion in Afghanistan when he was just 19, and Jamie Small, whose father killed himself after struggling with PTSD on leaving the Forces. Sally Orange, who was recently awarded an OBE for services to charity and mental health awareness, skipped around the course, catching up with Gina Allsop, another outstanding fundraiser and beneficiary, at the finish line. Both women are Army veterans and have dedicated themselves to raising awareness of SSAFA, the Armed Forces charity.
Sign up for next year at: https://www.ssafa.org.uk/support-us/challenge-events/trek/13-bridges-challenge-2024