Hundreds of LGBT+ Defence personnel attended a reception to celebrate Pride in London to recognise the vital role they have in defending our nation.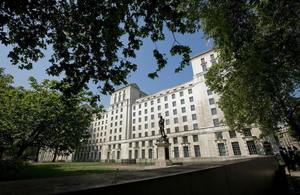 35 LGBT Veterans and 250 LGBT+ Defence personnel were joined by Andrew Murrison, Minister for Defence People, Veterans and Service Families, and Vice Admiral Phil Hally, Chief of Defence People, with veterans awarded with a veteran's badge to mark their contribution to the services.
Vice Admiral Phil Hally also joined veterans and personnel from across the three services and defence civilian staff as they marched in the parade.
Minister for Defence People, Veterans and Service Families, Dr Andrew Murrison said:
"As Minister for Defence People, I apologise for the unacceptable treatment of LGBT+ people in the past and the long-term effect this has had on today's veterans. However, it is clear from events today that the darkness of the past is not reflected in our modern Armed Forces, which is one that welcomes inclusivity, and one that positively embraces the LGBT+ community within Defence.

"Today's Armed Forces is a different organisation, one that welcomes and supports its LGBT+ personnel, valuing their skills and nurturing their talent so that everyone can achieve their full potential.

"Today I am proud to be welcoming 35 LGBT veterans joining current serving personnel on the Pride in London march, joining with military and civilian LGBT+ personnel who are very much part of the Defence family."
Chief of Defence People, Vice Admiral Phil Hally said:
"The treatment of LGBT veterans was wholly unacceptable and in my role as Chief of Defence People I wish to apologise for the inexcusable behaviour towards LGBT personnel prior to the lifting of the ban in 2000.

"Having been in service for the last 32 years, I have witnessed the positive steps the Armed Forces have taken to welcome the LGBT+ community; from recognising same sex relationships; the provision of Guides for parents of LGBT+ children and training for LGBT+ Allies and ensuring same sex couples can get married in Armed forces chapels. It has been my privilege to march today alongside our Armed Forces and wider Defence community, on a day that empowers people to feel they can be their whole selves. As part of my role and personal ethos, I am committed to ensuring that everyone can do this, every day, across Defence."
Individual services have also carried out their own activities, focusing on the contribution of LGBT+ Armed Forces staff to UK defence.
Recognising the harm that the historic ban on LGBT military personnel had, last year the Government commissioned an independent review to better understand the lived experience of these veterans. This review, which makes a number of recommendations for how Defence and Government can meet its commitment in the Veterans' Strategy Action Plan to ensure the service and experience of every LGBT veteran is understood, has now concluded.
It will be published shortly, with a fuller Government response considering the findings and setting out next steps to follow in due course.