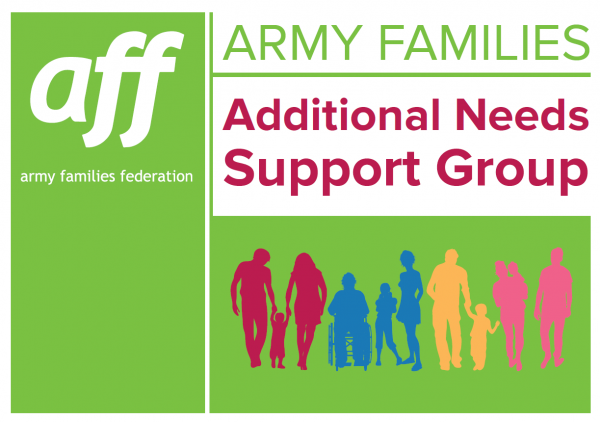 The Army Families Federation (AFF) is pleased to announce a serious of additional needs support groups aimed at increasing Army families' wellbeing and confidence through increased support.
Supporting families
Thanks to funding from ABF, The Soldiers' Charity, these new groups will not only support and empower families who have children with additional needs and/or disability, but will also allow AFF to develop their understanding of what support is needed, and what gaps in provision families are experiencing.
Family focus
AFF Health & Additional Needs Specialist Karen Ross explains: "We want to encourage families to come and meet others facing similar challenges to their own. We relish the opportunity to speak to families face-to-face in order to learn as much about the current issues as we can. What can we offer? A safe environment for families to come and share their ideas and experiences and hear about the latest information relevant to them."
AFF plans to use the information it gathers from families at these events to inform the MOD, service providers and other relevant charities of how services can be improved.
Find out more
Events will be held in Windsor, Aldergrove, Catterick and Colchester. For a full list of dates, visit the AFF website at https://aff.org.uk/Events/
For more information on these AFF events, families can contact the Health & Additional Needs Specialist directly on additionalneeds@aff.org.uk
ENDS
Notes to Editor:
The Army Families Federation (AFF) is the independent voice of Army families: Regular or Reserve, wherever they are based, whatever the make-up of their family.
Throughout the UK and overseas, AFF works hard to achieve policy change and progress in favour of Army families; they offer advice and guidance on all aspects of Army life, confidentially and in an easy-to-digest way.
They work with other agencies such as MOD, government, charities and other key players to strengthen their cause and fight for a fair deal for families everywhere.
Their family-focussed website (aff.org.uk) contains information about all aspects of Army family life, and their Facebook, Twitter and Instagram pages offer families other easy ways to contact us, interact with us, or simply follow the work we are doing.
AFF operates by four core values, which are pivotal to our work. These are:

AFF always puts families first
AFF can be trusted
AFF is bold and determined
AFF is inclusive
Media Contact:
For more information about AFF's work, contact Donna Bernard, AFF Comms & Marketing Director, at commsmarketingdirector@aff.org.uk