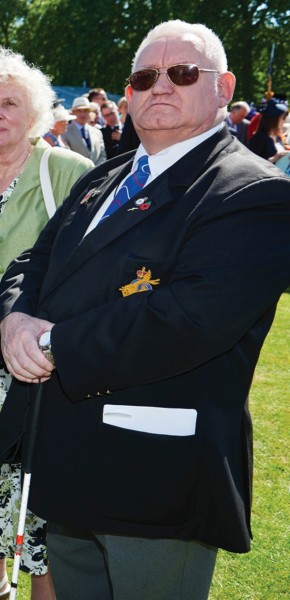 A blind veteran from Barry is set to march at the Cenotaph in London this Remembrance Sunday (12/11) with the charity Blind Veterans UK.
Roger Williams, 71 and from Buttrels, is being supported to do this by a number of Specsavers stores in Wales including his local store in Barry. The stores will be raising money from 6 to 12 November to help send blind veterans, including Roger, to march.
Roger will be marching at the Cenotaph in London with more than 100 other blind veterans supported by Blind Veterans UK, the national charity for vision-impaired ex-Service men and women.
He says: "Remembrance means a lot to me. It's a time when I think of the two gunners we lost in Ireland when I was in the Forces. I also think of my parents and my uncle, who was killed in the Second World War."
Roger joined the Royal Artillery in 1964 and served in locations including Germany, Malaysia, Borneo and Oman before being demobbed in 1975 as a Bombardier.
Roger says: "I enjoyed every minute of my time in Service. I was in charge of the Abbot gun, and I had a team of seven men to help handle it. I also spent time with the Parachute Regiment and learned to jump."
Roger lost his sight very suddenly due to a brain tumour in 1992. He was in coma for seven weeks and after coming round the doctor told him that he was blind.
Roger says: "When I heard the news I thought my life was over. I honestly wished at that point that they'd left me to die."
Fortunately, Roger found out about the support of Blind Veterans UK and joined the charity in 1993. He only heard about the charity by chance through a member of his local blind association.
Roger says: "Blind Veterans UK has honestly saved my life. The help and the training has given me a purpose and it means I can still live on my own and keep my independence. Despite being blind, I still do my own cooking, cleaning and shopping thanks to the support of the charity."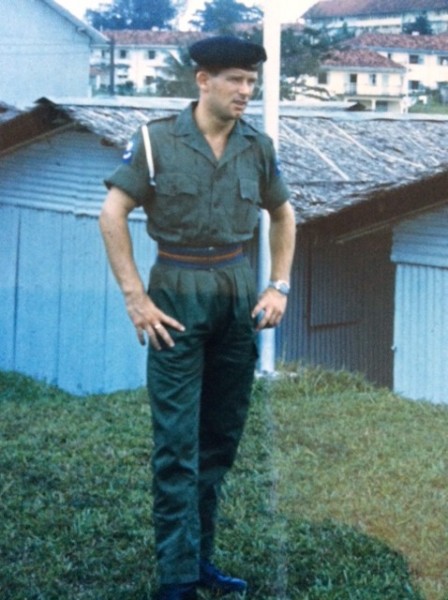 Blind Veterans UK has provided Roger with a talking watch and a liquid level indicator, as well as offering him IT training. Roger now uses an Orcam, a device which is a miniature smart camera that can read printed text. Alongside this equipment, he also frequently visits the charity's rehabilitation centres for respite, where he spends time with other blind veterans and relives the camaraderie of his time in Service.
Roger says: "If it wasn't for Blind Veterans UK I know I wouldn't have got this far. When I lost my sight I thought I wouldn't be able to do anything, but now there's almost nothing I won't try. Apart from perhaps sewing a button onto a shirt!"
Roger is set to march with other vision-impaired ex-Service men and women supported by Blind Veterans UK as part of the national Remembrance Sunday commemorations in London on Sunday 12 November 2017. The Barry Specsavers store will be raising money to help get Roger and all the other blind veterans there. They will be fundraising instore between 6-12 November for Blind Veterans UK. You can support their activity online at blindveterans.org.uk/helproger
Specsavers has supported Blind Veterans UK since 2012 and, as well as raising money for the charity, have referred a number of customers to them so they can access its support.
Chief Executive of Blind Veterans UK, Major General (Rtd) Nick Caplin CB says: "Remembrance Sunday is always a very poignant time for our blind veterans and it is fantastic that Specsavers are able to support them to get to march at the Cenotaph.
"Today, Blind Veterans UK supports more blind and vision-impaired veterans than ever before in the charity's history and we have set an ambitious target to double the number of veterans we support in the next five years."
Blind Veterans UK is the national charity for blind and vision-impaired ex-Service men and women, providing vital practical and emotional support to help veterans discover life beyond sight loss. The charity estimates that there are currently 59,000 blind veterans that would be eligible to access its specialist support, most of whom are not currently aware of it.
If you, or someone you know, served in the Armed Forces or did National Service and are now battling severe sight loss, find out how Blind Veterans UK could help by calling 0800 389 7979 or visiting blindveterans.org.uk
For all media enquiries please contact: Mark Wheeler, PR Manager, Blind Veterans UK, 12 – 14 Harcourt Street, London W1H 4HD, E: mark.wheeler@blindveterans.org.uk, T: 020 7616 7980
Notes to Editor
Blind Veterans UK
Blind Veterans UK is a national charity that believes that no-one who has served our country should have to battle blindness alone. It provides blind and vision-impaired ex-Service men and women with lifelong support including welfare support, rehabilitation, training, residential and respite care.
Find out more at: www.blindveterans.org.uk, and follow us on Facebook at: facebook.com/blindveteransuk and on Twitter at: twitter.com/blindveterans.