The military ceremony of Beating Retreat has its origins on the early battlefields where the drum was used for all signals. Beating Retreat was the signal for troops to disengage from combat as the light faded.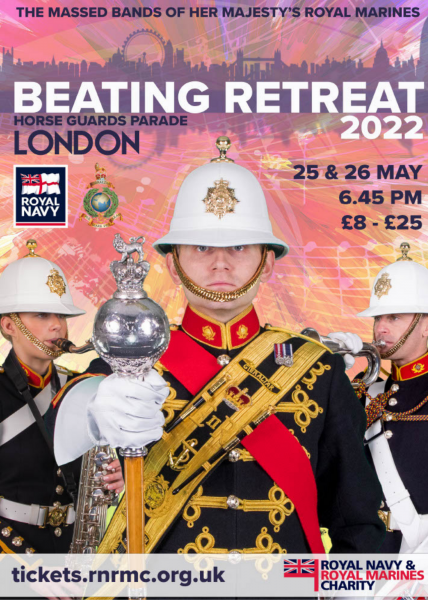 The Massed Bands of Her Majesty's Royal Marines perform their Beating Retreat ceremony every two years on Horse Guards Parade in front of the beautiful backdrop of St James's Park.
Enjoy a spectacular evening of outstanding military music and pageantry, featuring the precision drill of the 40 strong Corps of Drums and impressive
14-piece Fanfare Team.
Dates: 25 and 26 of May 2022, 6:45pm
Loaction: Horse Guards Parade, London
Seated and special access tickets available from £8 to £25. Wheelchair ticket includes a companion on the same ticket.
All proceeds from this event will go to the Royal Navy and Royal Marines Charity and RMA (The Royal Marines Charity).
Buy your tickets at www.tickets.rnrmc.org.uk