FirstLight Trust is one of Hereford's best kept secrets delivering a superb cup of coffee and legendary homemade coffee and walnut cake, but their Café Hub has so much more to it than just 'good coffee'.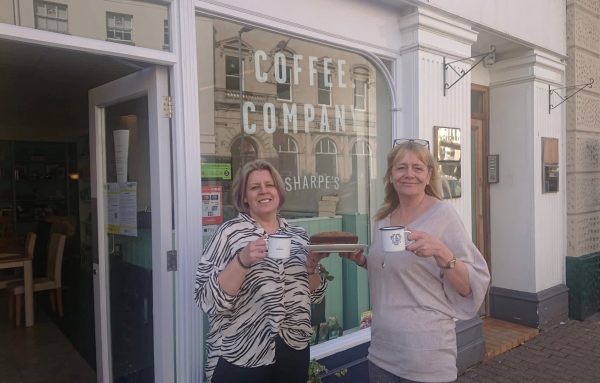 FirstLight Trust opened its doors in Hereford in early 2019 and owes so much to the funding that local Trusts and Foundations gave to get them up and running, enabling them to provide vital support to veterans of the Armed Forces and Emergency Services and the local community.
So, what does coffee and cake do in reality? And how does it support FirstLight Trust?
It is all in that cup of coffee…
Redemption Coffee (the supplier used by FirstLight Trust) supports the training of prisoners in becoming coffee roasters and baristas. Additionally, Redemption works closely with coffee growers to ensure that working conditions, and payment for the coffee beans is equitable and fair.
Supporting FirstLight by buying coffee and cake from the Hereford Café Hub provides income to help support the hundreds of veterans who come seeking aid with homelessness; mental health issues; loneliness; family problems; debt; ill health.
Has helped house (and keep in housing) over 28 veterans
Has provided many hours of therapy and counselling
Provided hundreds of welfare/wellbeing parcels
Provided support for over 3,000 telephone calls
Helped prevent over 4 suicides
Supported over 4,500 veteran visits since opening
Provided over 9,000 hours of tailored support, which continued to be delivered throughout the Covid-19 pandemic
And finally, the coffee grounds from making your coffee find their way to the FirstLight allotment compost heaps where veterans grow vegetables for themselves and for the excellent soup served in the Hub.
FirstLight Trust would like to say a very public 'Thank You' to, E F Bulmer Benevolent Fund, The Beatrice Laing Trust, The Clive Richards Foundation (formerly The Clive and Sylvia Richards Charity), The Eveson Charitable Trust, The Guyll-Leng Charitable Trust, The Rowlands Trust, and The Utley Foundation.
CEO of FirstLight Trust, Dorinda Wolfe Murray says, "without these incredible organisations we would be unable to deliver the vital support and the much-needed lifesaving (literally) work that we do. In huge appreciation for what the Hereford community has done to support our work, the first 20 people to bring this article into the Hereford Café Hub will receive a free cup of coffee of their choice*. Come and say hello to our fantastic support team led by Lynne Gladwin and Sian Walshe. As you support us you enable us to carry on supporting those who so desperately need it".
The FirstLight Trust Café Hub in Hereford is located at 41-43 Broad Street, please do stop by and become part of the cycle of support within the Hereford community by simply enjoying an excellent cup of coffee!
*Valid until 30 April 2022.
FirstLight Trust has five Café Hubs located throughout the UK in Hereford, Gosport, Lancaster, Scarborough and Hawick. For more information about FirstLight and the work they do please visit their website: https://www.firstlighttrust.co.uk/ or contact Rose Bradbury on rose.bradbury@firstlighttrust.co.uk or 0207 730 7545.