Bereaved military 18-25 year olds supported by Scotty's Little Soldiers, the charity for bereaved Forces children and young people, enjoyed a weekend away in the Peak District organised by the charity, where they took on physical activities that helped them build their confidence and meet other young adults who have also experienced the death of a parent who served in the British Armed Forces.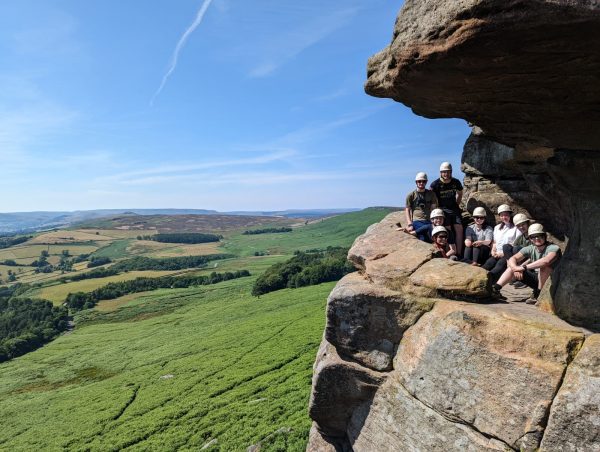 The weekend, which took place in July, was for Scotty's older members who are supported through the charity's SPRINGBOARD Programme. Activities enjoyed by the Springboarders included abseiling, weaselling, kayaking and a hike along the beautiful hills of the Peak District, as well as fun games, sports and indoor activities during the evening.
Along the way, the Springboarders had plenty of opportunities to talk about their loved one who had died and discuss their shared experiences of growing up without a parent. Mark, Scotty's Child and Young Person Support Worker, was also on hand to offer support to anyone who wanted it, which gave the group the confidence to speak freely and share their favourite stories about their parent.
Springboarder William, who's dad served in the RAF and died in 2017, said of the weekend:
"The general consensus is that it was pretty epic. It was brilliant, especially for people who haven't had nights away from home that often. There were lots of fun, team building activities and we had the chance to really get to know each other and feel supported. It's good to know there are other people like me, in the same situation, but you can still have fun. It's not all doom and gloom."
Scotty's Strides and Springboard Programme Co-Ordinator, Emma, said:
"The weekend away was a fantastic opportunity for our Scotty Springboarders to connect and make friends with other people their age who have also experienced the death of a parent who served in the military. The rates of 18- to 25-year-olds feeling alone and isolated is on the rise, so to be able to facilitate an event like this and provide our Springboarders with the opportunity to connect, build friendships and have fun with other young people who understand what they've been through is amazing. The weekend was a huge success, the group got on really well and supported one another throughout all the activities."
Scotty's Little Soldiers is a charity dedicated to supporting children and young people (0 to 25 years) who have experienced the death of a parent who served in the British Armed Forces.
Inspired by the experience of Army widow Nikki Scott, following the death of her husband Corporal Lee Scott in Afghanistan in 2009, the charity, which was set up in 2010, provides support and guidance to hundreds of bereaved military children and young people throughout their childhood.
Services offered to Scotty's members include access to child bereavement support, guidance to parents and carers, personal education and learning assistance (including grants), and fun activities such as holiday respite breaks and group events. These are all designed to remind the children and young people supported by Scotty's that they are not alone.
Scotty's Little Soldiers founder, Nikki Scott, said:
"This was the first weekend away that we had organised for our Springboarders and I'm so glad everyone had a great time. The team building challenges they took part in helped them to build confidence and it's been great hearing about the friendships that have been formed during the weekend. It gave them the opportunity to talk about their parent who died, with others who understand. Ensuring our Members and Springboarders don't feel alone is what Scotty's is all about. I'm so pleased we have been able to make this weekend happen, thanks to funding from the Armed Forces Covenant Fund Trust. We are very grateful to them for their continued support."