BFBS invites everyone to join in with some esports gaming fun this Armed Forces Day, as it hosts a brand new live and virtual event – the first-ever electronic sports exhibition tournament.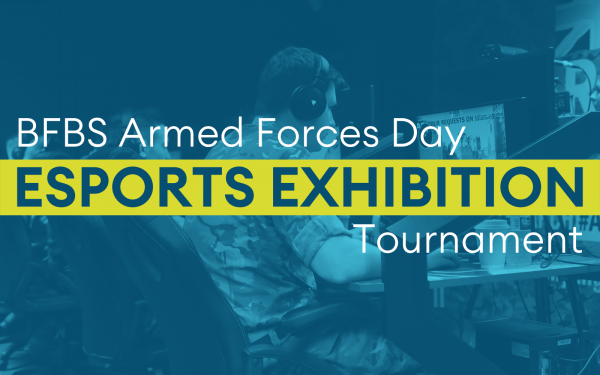 The event will see five teams from local schools, colleges, cadets and the community going head-to-head on 25 June against a team from each of the British Army, Royal Navy and Royal Air Force esports teams in fast-paced Rocket League matches.
It takes place in a specially created esports arena at the Promenade Lounge, Scarborough Spa, South Bay, Scarborough YO11 2HD – the centre of this year's Armed Forces Day activity. Live spectators at the exhibition tournament will have the chance to compete in the arena, as well as in a specially converted double-decker gaming bus.
The tournament will take place from 14:00 to 16:00, with the venue open from 12:30 for refreshments.
Anyone involved could be in with a chance of winning one of three great prizes:
£200 Amazon voucher per person for the winning team of three
£100 Amazon voucher per person for the second-placed team of three
£50 Amazon voucher per person for the third-placed team of three
For those who cannot be in Scarborough in person, there will be a live stream on BFBS Radio'sFacebook Page, Forces News YouTube and the British Army, Royal Navy and Royal Air Force Twitch accounts, with commentary from experienced military gamers, professional esports casters and a passionate online community.
Lieutenant Commander Gordon Jones, Head of the Royal Navy Video Gaming and Esports Association, said:
"The Royal Navy Video Gaming and Esports Association is excited to be attending this event and take the opportunity to meet the public on Armed Forces Day.  

"It's a great chance to do what we like doing, talking with like-minded people about gaming and esports and playing video games."  
Lieutenant Colonel Tim Elliott, Vice President of Army Esports, said:
"As Armed Forces Day is a day to celebrate our service personnel with the country and communities we belong to, live in and serve, Army esports are so pleased to be able to send a Rocket League team to the BFBS esports event at Scarborough to challenge our cousins in the Royal Navy, Royal Air Force and local civilian teams."  
Jackie Lerm, BFBS Head of Social Media, said:
"The BFBS Armed Forces Day Esports Exhibition Tournament is one of the highlights of our summer calendar this year.  

"Working closely with the military esports teams has been hugely rewarding and we're really thrilled to have the opportunity to bring the exciting world of military esports to the public, including a whole new generation of young gamers and those interested in the military." 
Head to BFBS.com/esports if you want to take part in the BFBS Esports Exhibition Tournament.
Forces News (YouTube and forces.net) will also have a range of reports and stories throughout Armed Forces Week and live from Scarborough on Armed Forces Day, Saturday 25th June.