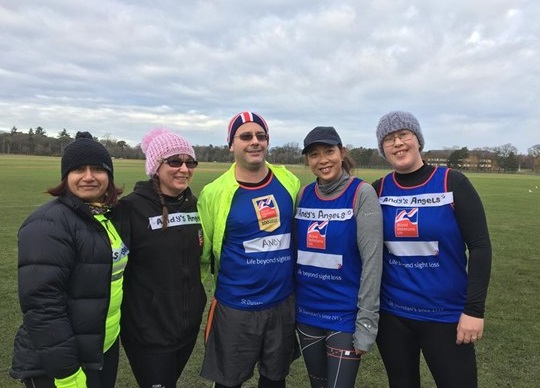 A blind veteran from Aldershort has pledged to run 100 miles per month this year, with the funds raised going to Blind Veterans UK, the national charity for vision-impaired ex-Service men and women.
Andy Leitch, 42, was convinced to sign up to the ultra-challenge by Joey Sharma, a long-time supporter of the charity who also reignited Andy's own passion for running. He says: "A few years ago I got back into running and was asked by Blind Veterans UK if I'd like to represent the charity at a run in Aldershort. I did, and in the process I met Joey. She's an incredible lady and very well known to the charity. She's completed a number of fundraising challenges, including the notoriously tough Marathon des Sables, and has raised so much for the charity while doing so."
He continues: "My wife and I soon became friends with Joey after we discovered that she officiated our local park run. A year later I did a couple of hours' worth of running for her 24 hour challenge at the Aldershot Military Sports Stadium. She invited us to join her for the 100k Yorkshire walk this July, which we quickly – if unexpectedly – signed ourselves up for too! I then saw on Facebook that she posted a challenge which involved running 100 miles per month, so after I successfully completed the challenge for January I thought, why not, let's do the whole year!"
Included in Andy's relentless and, quite literally, exhaustive schedule is the Fleet Half Marathon, the London Marathon, the Dorset Marathon and the Royal Parks Half Marathon. Joining him throughout the year will be a team of close friends, affectionately named Andy's Angels. He explains: "I'm lucky to have a great support team who'll take part in one or more of the events with me. I really can't thank them enough!"
Andy has been receiving support from Blind Veterans UK since 2011, following over 20 years' service in the Army. After joining the Royal Corps of Transport in 1992 -later the Royal Logistic Corps – Andy became a skid pan and advanced driving instructor with both HGV and PSV licenses, achieving the rank of Corporal.
Unfortunately for Andy, his service was cut just eighteen months short of 22 years when he developed retinitis pigmentosa and started to lose his sight in 2011, something which ultimately led to what Andy describes as a very dark place.
He says: "I had plans to set up in business as a driving instructor once I reached 22 years. My sight had been playing up so I went to the hospital and it took just one stroke of the Doctor's pen to take away my livelihood and wipe out any plans for the future. I became selfish, thinking only of myself and not those around me or the way my sight loss would also impact their lives."
He continues: "When the Doctor registered me as blind and took away my driving licence that was it. That was the end. My future was gone and for a few months the future looked bleak. Thankfully, Alton Adult Social Services told me about Blind Veterans UK and I accepted their invitation to go to the Brighton centre for training. At first, I'll be honest, I thought it was a hospital, but that soon changed when I met a blind veteran called Martin Shail. Within 24 hours my perception had completed changed and at the end of my four days at the centre my outlook on life was completely different. Martin is an incredible man and he certainly knows how to motivate and inspire!"
Fast forward to 2017 and Andy has joined Martin as one of the most inspirational veterans the charity is proud to support. With a momentous task ahead of him, he's looking forward to raising both money for the charity and awareness for the work it does in helping blind veterans regain their independence after sight loss.
He says: "I'd be lying if I said I wasn't looking forward to getting my medal from Awesome Running Events, but of course it's all about raising awareness for Blind Veterans UK. In particular, I want to be able to highlight the support that's given by the wives, husbands and families of those who receive support from the charity. They give an awful lot and don't always get the recognition they deserve. If I can remain injury free, I'll have completed about 1200 miles by the end of the year – it's going to be extremely tough, but if I can encourage even just one blind veteran to come forward and make use the fantastic support they're entitled to, it'll all be worth it."
To support Andy as he takes on the 100 mile challenge, please visit www.justgiving.com/andysangels1. Andy will also be holding an auction and raffle event to raise further funds. If you have any goods or services that you'd like to donate, please get in touch with Blind Veterans UK.
Blind Veterans UK was founded in 1915 and the charity's initial purpose was to help and support soldiers blinded in the First World War. But the organisation has gone on to support more than 35,000 blind veterans and their families, spanning WWII to recent conflicts including Iraq and Afghanistan.
For more than a century, the charity has been providing vital free training, rehabilitation, equipment and emotional support to blind and vision-impaired veterans no matter when they served or how they lost their sight.
For all media enquiries please contact: Felix Arbenz-Caines, , PR Assistant, Blind Veterans UK, 12 – 14 Harcourt Street, London, W1H 4HD, E: Felix.Arbenz-Caines@blindveterans.org.uk, T: 020 7616 7941
Notes to Editor
Blind Veterans UK
Blind Veterans UK (formerly St Dunstan's) is a national charity that believes that no-one who has served our country should have to battle blindness alone. It provides blind and vision impaired ex-Service men and women with lifelong support including welfare support, rehabilitation, training, residential and respite care.
The charity needs £100 million over 5 years to provide lifelong support to blind ex-Service men and women. Find out more at: www.blindveterans.org.uk, and follow us on Facebook at: www.facebook.com/blindveteransuk and on Twitter at: twitter.com/blindveterans.