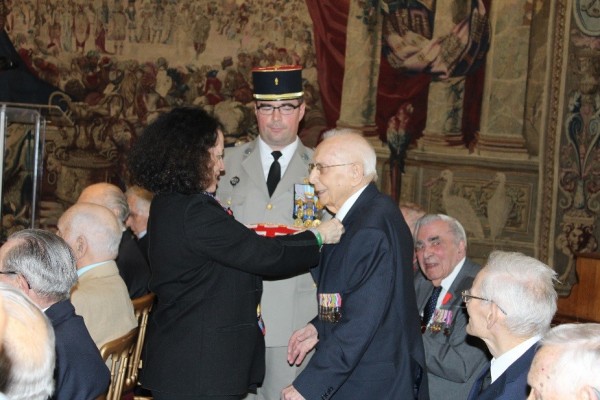 A Second World War blind veteran from Ilford has been awarded the Chevalier de l'Ordre National de la Legion d'Honneur for his part in the liberation of France.
Schera Masters, 97 and from Ilford, was formally presented with France's highest order by Madame Sylvie Bermann, the French Ambassador to the United Kingdom, in a prestigious ceremony at her official residence in Kensington Palace Gardens. The presentation, which took place on Tuesday January 30, was attended by Schera's friends and family, as well as representatives from Blind Veterans UK, the national charity for vision-impaired ex-Service men and women.
Schera, who has age related macular degeneration, says: "I feel very proud to have received this award; I'm grateful that the President of France has awarded all the people that contributed to their liberation in 1944. Moreover, I'm overjoyed that both my daughters were able to attend with my wife and I. Peta-Louise, who lives in Australia, managed to extend her stay so that she could attend, while Georgina travelled all the way from Canada to be with me."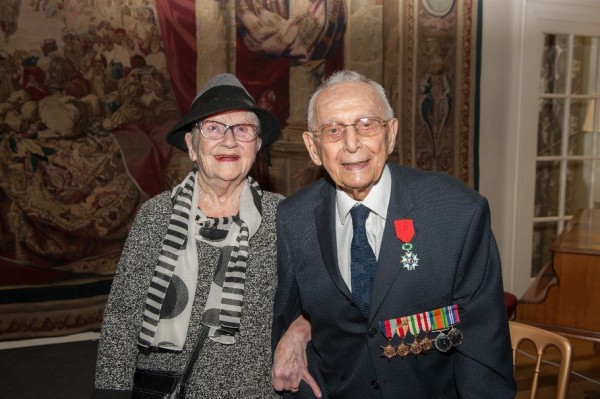 Schera was called into the army on December 1 1939, before being deployed to France with the British Expeditionary Force in February 1940. Several days after Dunkirk, Schera was forced to evacuate the country on his own after becoming separated from the rest of his men. After making his way to Saint Azur, he was able to escape back to Plymouth, before spending a short while recuperating on the Yorkshire Dales.
In February of 1941, it was intended for Schera to sail to Egypt on board the Nova Scotia. However, such was the scale of destruction being caused by both German U-boats in the Atlantic, and German and Italian aircraft in the Mediterranean, he was eventually deployed to Sierra Leone, where he then headed south across the equator to Cape Town. All throughout this incredible thirteen-week journey, Schera had to make do with only a hammock for a bed while on board the Nova Scotia.
Finally, Schera did reach Egypt, though his plans were once again disrupted by the ever-changing and fiercely unpredictable nature of the War. He says: "I was in Egypt for a while and then as we were told to move into Palestine, we found ourselves amidst the War in Lebanon, which was between the Free French and the Vichy French."
Following his time in Lebanon, Schera then spent two years in the Western Deserts of Egypt, Libya and Tunisia. He then proceeded to play a part in both the Battle of Tobruk and the Battle of El Alamein, two conflicts that were critical to the outcome of the War. He was then involved in the invasion of Italy at Salerno before spending eighteen months in the country. After crossing into Marseille in 1944 Schera helped with the transportation and carrying of various military and armoured materials, playing his part in the liberation of France. He then passed through Belgium and Holland, ultimately ending the War in Germany.
Given the amount of time Schera spent overseas during the War, and the incredibly diverse range of countries he was deployed in, his story is one of relentless sacrifice and tremendous nerve. He says: "Between 1939 and 1945, I only really had a few short breaks in England. To this day I still remember being in Felixstowe in December 1939, where our sergeant took us into a house and ordered us to take a sack and fill it with just straw. It was a strange request and we didn't really know what to make of it, until he told us that we were now holding what would be our beds while we were away. From that day, for six years, I never slept in a bed, except for embarkation leave, which I only took twice."
Schera, who has been receiving support from Blind Veterans UK since 2015, is grateful for the part the charity played in making him aware of the award. He says: "We only heard about the award a few months ago. Blind Veterans UK got in touch to tell me I might be eligible, so my wife wrote to the Ministry of Defence and then, about a month ago, we were informed that my application had been successful. It was an incredible moment for both me and my family."
The Chevalier de l'Ordre National de la Legion d'Honneur Legion D'honneur was awarded to all British people who helped liberate France in 1944, following a decision taken by the French Government in 2014.
Blind Veterans UK was founded in 1915 and the charity's initial purpose was to help and support soldiers blinded in the First World War. But the organisation has gone on to support more than 35,000 blind veterans and their families, spanning the Second World War to recent conflicts including Iraq and Afghanistan.
For more than a century, the charity has been providing vital free training, rehabilitation, equipment and emotional support to blind and vision-impaired veterans no matter when they served or how they lost their sight.
Visit blindveterans.org.uk/support to learn more about the charity and how you can support its vital work today.
For all media enquiries please contact: Felix Arbenz-Caines, PR Assistant, Blind Veterans UK, 12 – 14 Harcourt Street, London, W1H 4HD, E: Felix.Arbenz-Caines@blindveterans.org.uk, T: 020 7616 7941
Notes to Editor
Blind Veterans UK
Blind Veterans UK (formerly St Dunstan's) is a national charity that believes that no-one who has served our country should have to battle blindness alone. It provides blind and vision impaired ex-Service men and women with lifelong support including welfare support, rehabilitation, training, residential and respite care.
The charity needs £100 million over 5 years to provide lifelong support to blind ex-Service men and women. Find out more at: www.blindveterans.org.uk, and follow us on Facebook at: www.facebook.com/blindveteransuk and on Twitter at: twitter.com/blindveterans