A blind Army veteran from Miserton in Nottinghamshire is sewing personal laundry bags for NHS and care home staff to help contain Coronavirus in the community.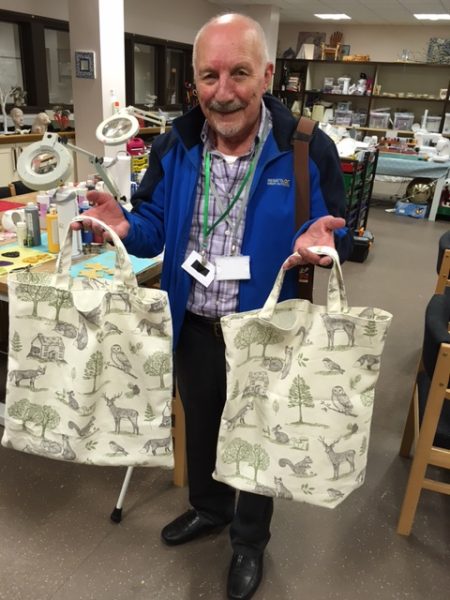 80-year-old Brian Bailey is putting his sewing skills to use by producing laundry bags that frontline staff can store their overalls in at the end of each shift before washing at home.
His first batch went to Blind Veterans UK's rehabilitation centre in Brighton where 26 of his fellow blind veterans are being cared for during the crisis. The second batch has gone to Llandudno to be distributed to NHS hospitals in the local area.
Brian says:
"Blind Veterans UK have done so much for me over the years so I was thinking about how I could give back during these challenging times. I'm delighted to offer some practical support to the charity's carers and our NHS heroes too."
Brian learnt to sew in the Army but after his sight loss didn't think it would be a hobby that he would be able to maintain. It was during a trip to Blind Veterans UK's rehabilitation centre that Brian rekindled his love of sewing. He says:
"I was in Brighton for a week of woodworking when I saw a sewing machine in the corner of my eye. I went back later and ended up making some cushion covers that week. I use the limited sight that I have to sew which makes it tricky but very enjoyable nonetheless."
Brian spent 20 years in the Royal Logistics Core as an Air Dispatcher, Guided Weapons Company and Tank Transporter. He served in Germany, Cyprus, Northern Ireland and Singapore. It was later in life at the age of 72 that Macular Degeneration stole his sight which has been in decline ever since. Brian describes his vision:
"I have a little bit of sight left in the bottom of my eye so when I'm sewing I'm always looking down to see what I'm doing."
Luckily in 2016 Brian discovered Blind Veterans UK who have been supporting him ever since. Brian says:
"The charity have been fantastic. Through visits to their rehab centre I've got back into sewing and woodwork which has given me a great outlet and hobby during my years with sight loss. I've met lots of my fellow blind veterans who I speak to regularly on the phone. I can't emphasise enough how important it is to chat with people in the same position as yourself."
Blind Veterans UK has adapted its service to support its 5,000 beneficiaries, 90% of whom are over 70 and thus being advised by the Government to self-isolate. The National Support Service will help blind veterans through this period of social isolation.
Nicky Shaw, Blind Veterans UK Director of Operations said:
"Having to self-isolate, blind veterans need our help right now with daily tasks, such as the shopping, and constant emotional support through this difficult time. So we are temporarily changing our service and mobilising our staff to provide practical, essential support to help the most vulnerable."

"There is so much that we can and must do to support blind veterans to help them maintain physical and emotional wellbeing, and to feel safe, reassured and cared for during this crisis."
You can keep updated on Blind Veterans UK's response to Covid-19 at blindveterans.org.uk/coronavirus where you can also find out more about supporting the charity to make this new service possible.