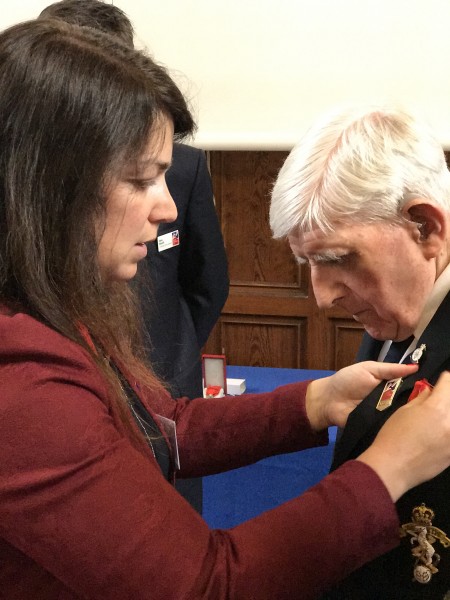 A blind veteran from Wrexham has been formally presented with the Chevalier de l'Ordre National de la Legion d'Honneur for his part in the liberation of France.
Eric Andrews, 92, was presented with the prestigious honour in Llandudno, North Wales by French Honorary Consul, Mrs Aude Auclair. The ceremony was arranged and organised by Blind Veterans UK, the national charity for blind and vision-impaired ex-Service men and women, from whom Eric receives support.
Eric says: "It wasn't something I expected, but I'm certainly glad it's here! It's a special feeling to be winding back the clock and revisiting my past. It all happened so long ago, but at the time, it was just one of those things. It was what you did during the war."
Eric joined the General Service Corps in May 1943, completing his training in Chester. He transferred to the Royal Electrical and Mechanical Engineers at Ormskirk, Lancashire in July. He explains: "I actually originally volunteered for the Royal Air Force but was eventually called up to the Army. Following Ormskirk, I trained as an Armourer and was placed in various locations across the UK.
"I later landed in Europe at Arromanche and moved through France, Belgium, Holland and Germany."
Despite the many horrors of war, Eric looks back fondly on his time. He says: "I loved it. I met my wife in Germany and married her there not long after."
Eric was discharged in 1947, before joining the Territorial Army where he trained National Servicemen on a part-time basis. He adds: "Following my part-time employment with the Territorial Army I joined the Atomic Energy Commission at Springfield, near Preston. I later moved to Wales where I entered the motor trade, before eventually working as a General Manager in Wrexham, where I retired."
Unfortunately for Eric, his eye sight has long been an issue for him as a result of glaucoma. In 2007 he registered with Blind Veterans UK, and remains positive of the experiences the charity has afforded him. He explains: "They're very good. Their Llandudno centre is absolutely fantastic; the people there are wonderful and it's got a lovely relaxed, outdoorsy feel to it. I've nothing but great praise for Blind Veterans UK."
Blind Veterans UK was founded in 1915 and the charity's initial purpose was to help and support soldiers blinded in the First World War. But the organisation has gone on to support more than 35,000 blind veterans and their families, spanning WWII to recent conflicts including Iraq and Afghanistan.
Blind Veterans UK currently supports over 4,500 veterans, more than ever before in the charity's history. They have set the ambitious target to double the number of veterans receiving its life changing support to over 8,000 by 2022.
For more than a century, the charity has been providing vital free training, rehabilitation, equipment and emotional support to blind and vision-impaired veterans no matter when they served or how they lost their sight. Visit blindveterans.org.uk/support to learn more about the charity and how you can support its vital work today.
Additional imagery available on request.
For all media enquiries please contact: Felix Arbenz-Caines, PR Assistant, Blind Veterans UK, 12 – 14 Harcourt Street, London, W1H 4HD, E: felix.arbenz-caines@blindveterans.org.uk, T: 020 7616 7941
Notes to Editor
Blind Veterans UK
Blind Veterans UK is a national charity that believes that no-one who has served our country should have to battle blindness alone. Founded in 1915, the charity provides blind and vision impaired ex-Service men and women with lifelong support including welfare support, rehabilitation, training, residential and respite care.
Find out more at: blindveterans.org.uk, follow us on Facebook at: facebook.com/blindveteransuk and on Twitter at: twitter.com/blindveterans.