On Sunday 26 June 2022, the RAF Benevolent Fund, the RAF's leading welfare charity, held a tribute to all the brave veterans who courageously served in Bomber Command through a special, virtual and in-person Bomber Command Memorial service. The service is held annually by the Memorial's custodian, the RAF Benevolent Fund, to mark the unveiling of the Memorial which was first revealed by Her Majesty The Queen in 2012.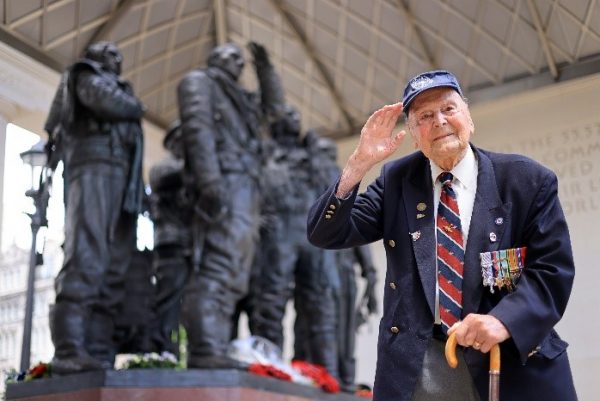 The poignant service included prayers, readings and a one minute's silence. The event was attended by representatives from the commonwealth and allied countries, the University of London Air Squadron, 282 (East Ham) Squadron, the Bomber Command Association and The Queen's Colour Squadron among many others.
RAF Benevolent Fund supporter and actress Sue Holderness, whose own father Anthony was in Bomber Command, hosted the virtual service. Also featured were stories of those who served in Bomber Command by RAF Author and Historian Steve Darlow, as well as information about how the Fund supports Bomber Command veterans today, to live in comfort and dignity in their own homes.
Bomber Command veterans attended the service, including 99-year-old George Dunn who, during World War II flew a total of 44 operations with Nos 76, 608 and 104 Squadrons, 30 in Halifax bombers over targets in industrial Germany and 14 in Mosquitos bombing Berlin. Wing Commander John Bell (99) who served on 617 and 619 Squadrons as a Bomb Aimer was also in attendance, as well as Dr JH Burt (100), who was a doctor in the RAF and supported 617 Squadron during the Second World War.
RAF Benevolent Fund Controller Air Vice-Marshal Chris Elliot said:
"The Bomber Command Memorial is an important and fitting tribute to all those lost their lives as part of Bomber Command. The RAF Benevolent Fund is honoured to be the guardian of the Memorial and we maintain it for future generations so that the story of Bomber Command and the noble sacrifice of those who lost their lives will always be remembered."
To rewatch the Bomber Command Memorial virtual service, click here.