For the past few years, the Naval Families Federation (NFF) has been providing book resources to currently serving Royal Navy and Royal Marines (RN/RM) personnel and their loved ones. The Family Resource Project has now come to an end, but we are delighted to announce the launch of 'Books for All' with wider eligibility, thanks to funding from the Royal Navy and Royal Marines Charity (RNRMC).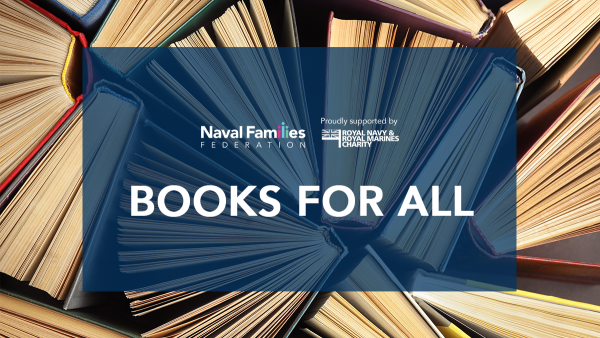 Dealing with separation is part and parcel of RN/RM Service life. Be it weekending, exercises or deployment, it impacts on our families' wellbeing and family life. Several years ago the NFF set up a book resource project that aimed to provide reading books to their beneficiaries to support resilience and enhance coping strategies.
That project proved popular and provided fantastic feedback from our community:
''It's a brilliant initiative and the selection available is great. I love that there's choice for all age groups. I highly recommend it.''

''I just wanted to say a massive thank you for the resources that you sent us. The books are wonderful and will be useful.''

''Brilliant book would definitely recommend to all forces families as it supports combat stress which is a very taboo subject.''
The new project will adapt the current extensive book list, which includes a wide range of topics for all ages. The books can help to explain deployments and separations to youngsters, address anxiety and mind management to combat the challenges Service life may bring, provide support at times of loss and bereavement, and much more.
The project, which is being launched on 1st February, will provide Service personnel and their loved ones one book per family member.
In recognition that RN/RM children experience the most parental absence of all three Armed Forces, we have extended the eligibility to schools with at least one RN/RM Service pupil enrolled. Limited to 10 books per school, staff are welcome to put these in their library or use them in any particular work they do with Service children.